If dandruff is your biggest problem, you need to read this Amplixin Scalp Therapy Shampoo review. I'll show you how it can help you get rid of dandruff and should you be using it.
Let's admit it: Dandruff is irritating. Not only it negatively impacts your confidence and is a constant source of embarrassment, but the itchy scalp is a bigger problem.
Almost everybody at one point or the other had experienced some appearance of a scalp concern, which may include itchiness, mild irritation, dandruff, or scalp dermatitis in more severe cases.
However, there's no reason why you should continue with this experience as the best shampoo for dandruff can help you clear your dandruff and other skin conditions easily.
Amplixin Scalp Therapy Shampoo is one of the best hair products to combat dandruff, itching scalp, and scalp dermatitis. Here is Amplixin scalp therapy shampoo review to help you know more about it.
What is Amplixin Scalp Therapy Shampoo?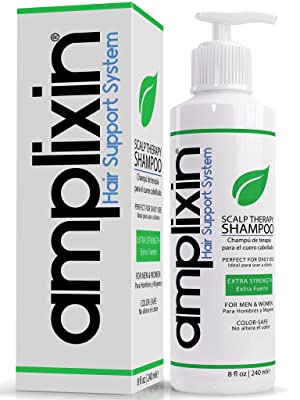 Amplixin Scalp Therapy Shampoo is a revolutionary hair product for men and women to combat scalp problems. Amplixin Shampoo is professionally formulated with tea tree oil and peppermint oil to offer maximum moisturizing effect on hair and scalp.
Maintaining a healthy scalp is essential for thick, dense-looking hair and that is precisely why Amplixin Scalp Shampoo contains all the essential ingredients to encourage a healthy scalp, and helps you achieve healthy-looking hair that is full of body and volume.
Amplixin scalp therapy shampoo helps to control dandruff and scalp irritation issues. Its formula delivers necessary moisture, making patches and flakes disappear from your scalp.
Features
Here are the major features of Amplixin scalp therapy shampoo:
Amplixin Shampoo is a natural anti-dandruff shampoo for both men and women to fight against the itchy, flaky scalp, seborrheic dermatitis, eczema, and psoriasis hair treatment.
It is specially formulated with tea tree oil and peppermint oil to help treat dry, flaky scalps and bring your hair back to perfect health.
It contains a powerful combination of red clover, bio-mimetic peptides, and caffeine to help stimulate the scalp, and promote regrowth from the follicle, whilst effectively blocking negative effects of DHT.
This intensive scalp therapy is sulphate-free, SLS-free, paraben-free, and cruelty-free. It doesn't contain any harsh chemicals that may irritate hair roots and scalp.
It is safe on all hair types.
It leaves your hair smelling clean and fresh – thanks to the natural infusion of the subtle essences of rosemary and wild sage extract.
It is favourite for those suffering from dermatitis, and those with dry, sensitive scalps. It contains 2% tea tree oil plus peppermint for a nice morning pick-me-up.
Ingredients
Amplixin Scalp Shampoo is doctor-reviewed, certified, and approved daily shampoo to prevent dandruff and relieve itchy, flaky scalp. It is manufactured and produced with the use of natural ingredients, oils, and extracts to provide you with soft, shiny hair and a healthy scalp.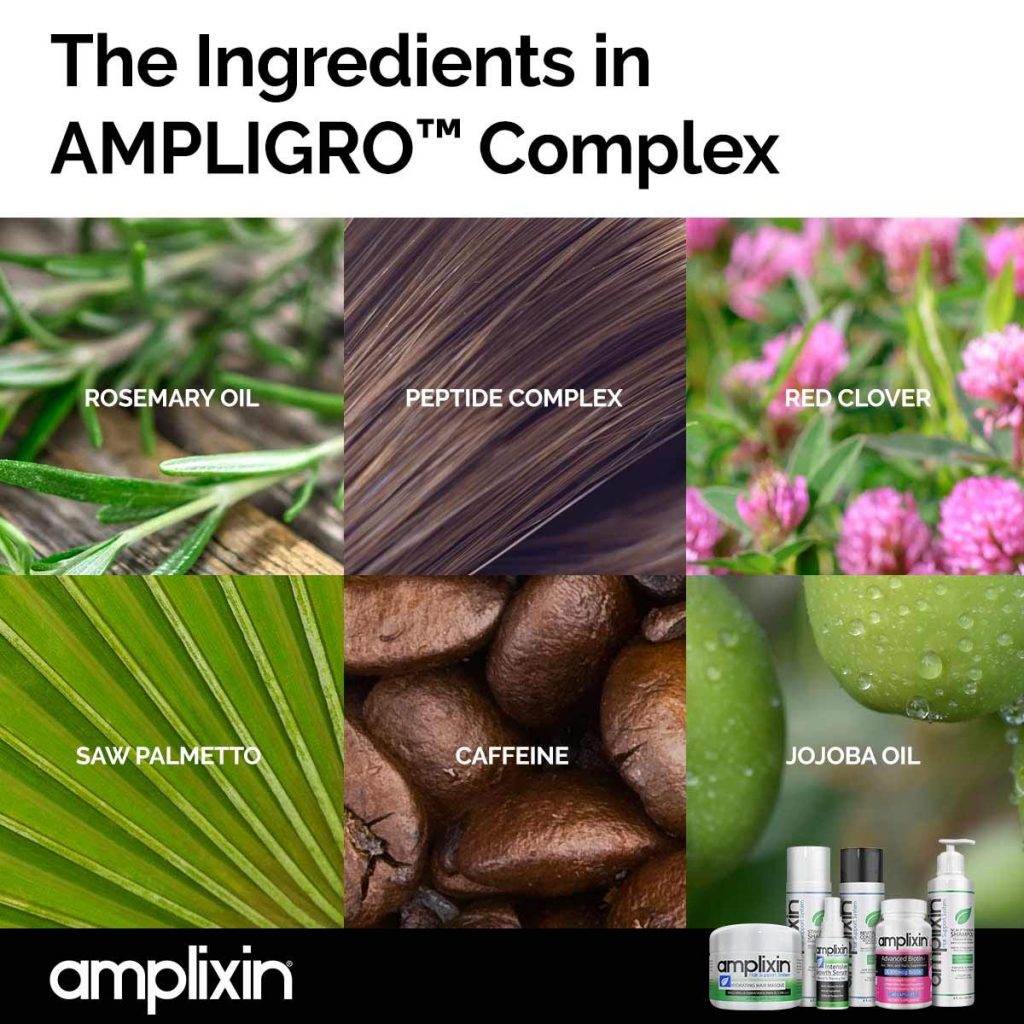 It is made with natural aloe vera, tea tree oil, caffeine, and rosemary (Rosmarinus officinalis) leaf extract for maximum effect. Tea tree oil is an antifungal agent that can be effective in relieving an itchy scalp and managing dandruff.
Native Americans have long used aloe vera inner gel to keep their hair healthy and prevent it from falling out. It helps heal any damage on the scalp, cleans the pores, relieves irritation, and maintains a proper balance in the scalp.
Other natural ingredients include:
Simmondsia chinensis (jojoba) seed oil
Serenoa serrulata (saw palmetto) fruit extract
Salvia officinalis (sage) leaf extract
Caffeine
Mentha piperita (peppermint) oil
Melaleuca alternifolia (tea tree) leaf oil.
How to Use Amplixin Scalp Therapy Shampoo?
Apply shampoo on wet hair just like any other shampoo. Massage gently and make sure it reaches scalp and hair roots. Leave for 3 – 5 minutes, then rinse thoroughly.
Use Amplixin scalp therapy shampoo regularly to achieve the best results. The goal is to see a considerable amount of change in your hair after using it for 3 – 4 weeks.
It is recommended to use it with Amplixin Hydrating Hair Mask for even better results. Check out the complete Amplixin Hydrating Hair Mask review.
Who Should Use Amplixin Scalp Therapy Shampoo?
Amplixin shampoo is ideal for anyone – male or female – who wants to get rid of dandruff and itching scalp as fast as possible. This shampoo can be used as daily care for people who are suffering from psoriasis or scalp eczema.
Pros
Here are the major Amplixin scalp therapy shampoo pros:
It delivers moisture right into your hair and scalp to combat dandruff and itching
It is sulphate-free, paraben-free, and cruelty-free
Blocks negative effects of scalp inflammation
Safe for all hair types and works for both men and women
It also treats thinning hair due to hormonal imbalance and age
Clinically proven and tested dandruff shampoo.
Cons
It may cause eye irritation. Therefore, avoid contact with eyes. If contact occurs, rinse well with water.
Conclusion
Amplixin Scalp Therapy Shampoo is specially formulated with hair-friendly ingredients that are great for the dry and flaky scalp, reduce scalp irritation, stimulate the scalp, and slow down hair loss. So, if you're struggling with scalp itching, irritation, dandruff, or any other scalp concerns, don't hesitate to order Amplixin Scalp Therapy Shampoo by clicking the button below…