Are you suffering from hair thinning or hair loss and wondering if hair loss treatments would work for you? I have good news: You don't have to go with a cap or wig anymore, there are lots of hair loss solutions that you can choose from. Amplixin and Rogaine are the two leading solutions to thinning hair and hair loss.
But how does Amplixin compare to Rogaine and how does Amplixin vs Rogaine work. What product you should choose and why?
Let's figure out.
Hair Loss Solution
Hair problem is very common and while we do have a lot of treatments available in the market, it is still hard to determine which product would benefit us the most or able to cure the issue permanently.
This is why trial and error is still necessary just like when you are looking for the most suitable skincare for our face. However, many of us are more interested in what works for others since it seems more promising and already proven to give results.
If you are specifically suffering from hair loss, you may want to start asking professionals about the reasons and whether it needs further treatment or can be handled with over-the-counter medication.
If you have hair loss, either due to the lack of nutrition or DHT, there are several dependable hair treatments or products out there, such as Amplixin and Rogaine with beneficial ingredients to help you gain more hair and stop hair thinning.
What is Amplixin?
Amplixin is an outstanding hair product manufacturing brand that is very good at reducing hair loss and making your hair thick. It even promotes new hair growth when used routinely.
As opposed to other products that address single catalyst, this one is taking a back-to-basics approach that nourishes hair to promote hair growth.
Amplixin is good for people who are looking for a more natural solution because it utilizes natural ingredients, which makes it safe for everyone (men and women) in terms of side effects.
Amplixin Ingredients and Benefits
The major ingredients in Amplixin are caffeine, acetyl-tetrapeptide-3, and red clover. Caffeine is known for combating hair loss. Acetyl-tetrapeptide-3 stimulates tissue regeneration which in result may have a positive effect in making your hair stay longer in your scalp, and when combined with red clover, the benefits result in a complete revitalization of your hair follicles, better blood circulation, and nourishment and oxygenation to your hair roots to give you a thicker and stronger hair.
Amplixin conditioner contains natural ingredients like argan oil and aloe vera. They both nourish your scalp and moisturize your hair strands as well.
Amplixin hair serum contains aloe vera, sage leaf extract, and chamomilla recutita extract. Aloe vera contains proteolytic enzymes that repair dead skin cells on your scalp.
Sage leaf is known to have an antibiotic, anti-allergic, and antiseptic properties that will benefit your scalp. The chamomile extract also does the same to your scalp.
What is Rogaine?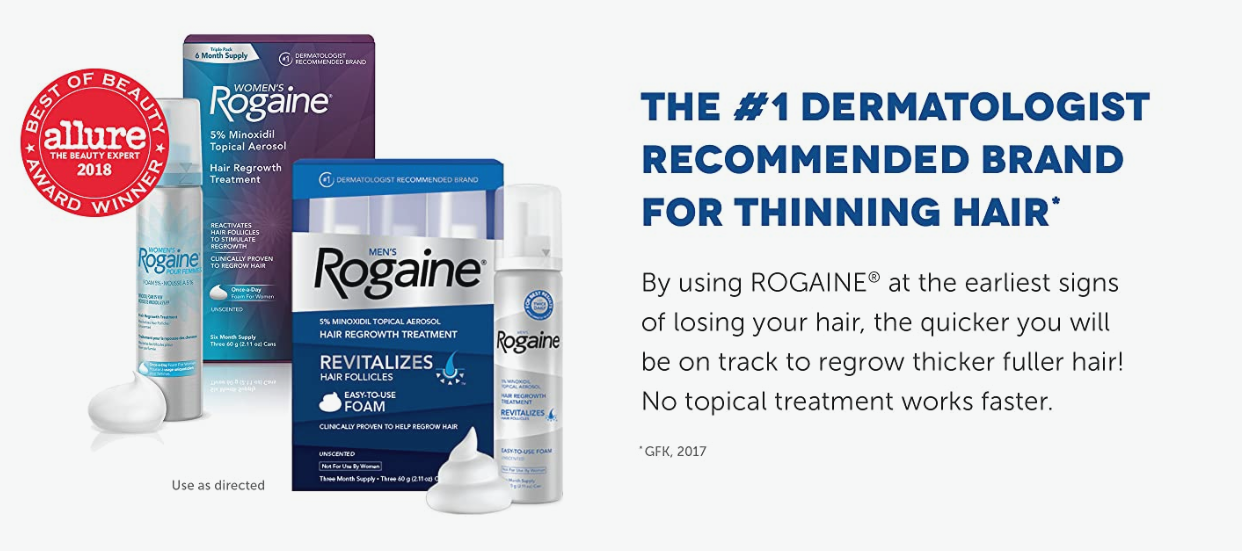 Amplixin contains natural ingredients and maybe less powerful depending on the user and the level of hair problem. However, if you want a faster solution, Rogaine may suit you better. Minoxidil is the active ingredient in Rogaine.
Rogaine is a popular treatment for hair thinning and hair loss especially for people with alopecia due to DHT. Rogaine is available in both foam and liquid forms. The foam and liquid versions have 5% Minoxidil as its active ingredient.
Rogaine Ingredients and Benefits
Minoxidil in Rogaine is the first male pattern baldness drug approved by FDA and it is originally used to treat patients with high blood pressure since it acts as a vasodilator. It is indeed proven to help people slowing the progress of their hair loss and even regrow some hair.
Minoxidil works by stimulating the hair follicles to keep them longer in the growth cycle. It has been medically certified to increase hair density and stimulate hair regrowth in both men and women suffering from Androgenetic alopecia.
However, for women suffering from alopecia areata, minoxidil was only found to maintain existing hair without stimulating hair regrowth. However, some medical tests suggested that, in higher concentrations, minoxidil was more effective.
Nevertheless, you must observe the continuous use of the product to maintain its hair regrowth benefits.
Rogaine Vs Amplixin
Now, let's compare Amplixin vs Rogaine. As you may already know, these two hair loss solutions are different. Amplixin uses natural ingredients to handle hair thinning and is mainly applied topically to promote a better environment for new hair to grow and helps retain the root in place so they can last longer in your scalp.
Rogaine, on the other hand, uses minoxidil to maintain your hair follicle.
Amplixin
Natural solution
Available in a wide range of different products
It promotes complete hair health
More expensive
Rogaine
Chemical solution
Single treatment
Deals with hair loss
More affordable
Rogaine Vs Regaine
Both Regaine and Rogaine are the same and manufactured by Johnson & Johnson Ltd. Rogaine is the official brand name in the US while Regaine is the official brand for the UK. Both Rogaine and Regaine have the same formulas, the same products, and the manufacturer is the same, the only difference is the in the brand names and where each is sold.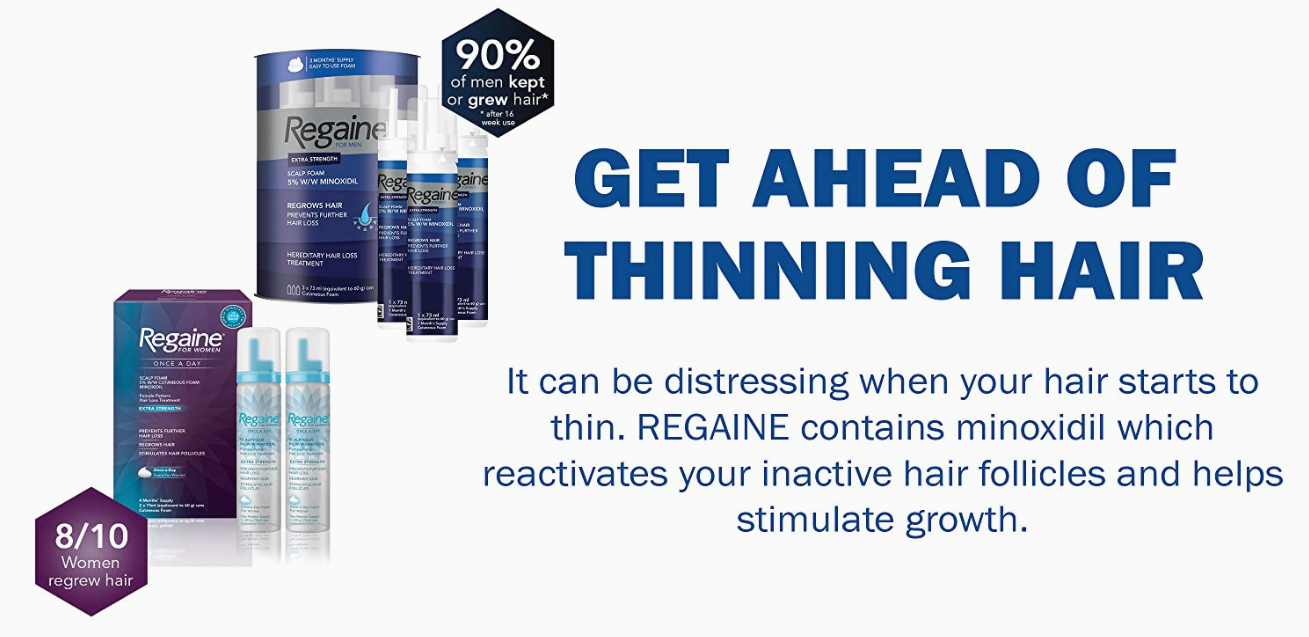 If you are in the USA, you'll see Rogaine and you'll have to buy Rogaine. If you are in the UK, you'll have to buy Regaine.
Amplixin Vs Regaine
Amplixin uses natural ingredients, such as caffeine, red clover, argan oil, aloe vera, sage leaf extract, and chamomilla recutita extract to combat thin hair and improve your hair growth.
On the contrary, Regaine uses chemical ingredients mainly minoxidil to prevent hair loss and promote hair growth.
Just like Amplixin, Regaine works for both men and women, and it is specifically to cure androgenetic alopecia. However, it is a known fact that minoxidil is beneficial for several hair loss problems (e.g. alopecia areata).
Conclusion
Both Amplixin and Rogaine are decent options for those who are not fond of taking medication or supplements to combat their hair loss and hair thinning, especially those in the beginning stage where the case is not severe yet.
However, Amplixin contains natural ingredients and offers a more natural treatment to promote safer and healthier hair growth while Rogaine uses chemical treatment that's more effective and works quickly.