Are you planning to use Amplixin Hydrating Hair Mask and want to get rid of damaged, dry, thin, and oily hair? This Amplixin Hydrating Hair Mask review covers everything you need to know about the hair mask.
But first…
What is Hair Mask?
Just like what a good face mask does to your skin, a good hydrating and deep-conditioning hair mask is meant to rejuvenate, refresh, and fortify your hair.
A hair mask does more than what your favourite conditioners would do because it is richer. A hair mask is ideal for you if you have dry, damaged, and colour-treated hair.
Hair masks are specially designed to be intensely hydrating, using a rich blend of oils, moisturizers, and strengthening aids — like keratin and collagen — to pamper and transform your hair.
Amplixin Hydrating Hair Mask Overview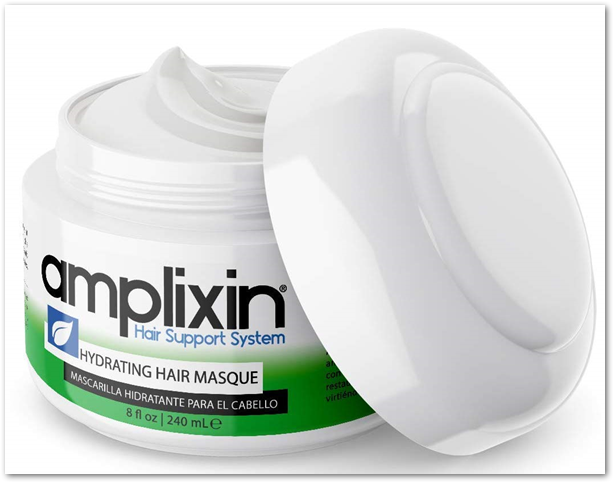 Amplixin Hydrating Hair Masque delivers intense moisture to dry and itchy scalp to restore body, shine, and vitality of roots and follicles. It is a deep conditioning hair repair treatment mask with coconut and argan oil that help cure damaged hair. It contains a special formula to repair damaged hair after rebonding, leaving your hair hydrated and easier to manage.
Amplixin hydrating hair mask is sulphate-free, SLS-free, paraben-free, and cruelty-free with NO harsh chemicals that irritate hair root and scalp. Unlike other scalp treatment products, it can be used by everyone in the family and is safe on all hair types – normal, dry, oily, damaged, bleached, colour treated, curly, or afro.
Features
The major features of Amplixin hydrating hair mask are listed below:
It gives you a complete scalp and hair therapy that promotes scalp and hair health.
It is 100% colour-safe and is perfect for all hair types.
Your hair and scalp are moisturised with its active moisturising ingredients.
The natural extracts and oil provide fast and long-lasting results for thick and healthy hair.
It contains argan and coconut oil that nurture your scalp from within to repair any damaged cells and protect your hair from dirt and environmental pollutants.
It is sulphate-free, paraben-free, and cruelty-free making it a perfect mask for people with sensitive scalp and hair.
Comes with a 30-days money-back guarantee.
Ingredients
Amplixin hydrating hair mask is void of harmful, irritating chemicals but contains natural extracts such as aloe vera, coconut oil, and argan oil.
1. Aloe Vera
Native Americans have long used aloe vera inner gel to keep their hair healthy and prevent it from falling out. It helps heal any damage on the scalp, cleans pores, relieves irritation, and maintains a proper balance in the scalp.
2. Coconut Oil
Rich in vitamins, minerals, and antioxidants, coconut oil helps prevent damage to the hair root caused by environmental pollutants while keeping your hair shiny, strong, and frizz-free.
3. Argan Oil
Argan oil is rich in beneficial nutrients including fatty acids and vitamin E which has been proven to make hair softer, silkier, and shinier. It is the ideal hair conditioner, and it can even help to treat split ends and tame frizzy hair.
4. Ampligro Complex
Amplixin Hydrating Hair Mask does not only nourish your hair, but it also promotes the growth of new hair. It hydrates your hair with a rich blend of coconut and argan oil while its innovative ampligro complex (a unique combination of clinically studied active ingredients) blocks the production of dihydrotestosterone (hair loss hormone) and promote healthy, shiny hair.
How to Use Amplixin Hydrating Hair Mask?
You need to follow these simple 5-steps to use Amplixin Hydrating Hair Mask to reap the most benefits for your hair.
Step #1: Wash Your Hair
This hair mask should be used after shampooing and in place of your regular hair conditioner. So always start the process with clean, wet hair. It is recommended to use it with Amplixin scalp therapy shampoo which is a dandruff shampoo for all hair types.
Step #2: Apply Liberally but Cautiously
I recommend that you start the process with a small quantity of the hair mask and add more if you notice your hair is soaking up the product. This will help you not to weight down your hair.
Also, concentrate the product on your hair roots and the ends — this is where most of the damage accumulates.
Step #3: Gently Comb the Mask Through Your Hair
After applying the mask from mid-shaft to ends, gently comb the mask through your hair to ensure that it reaches your whole head.
To ensure that the mask properly saturates your hair and scalp, comb your hair from top to bottom or massage it gently.
Step #4: Wait a Few Minutes
Once you've combed the mask evenly across your hair, clip your hair away from your face and wait a few minutes (usually 3-5 minutes) for the product to work its magic.
Step #5: Rinse, Protect, and Style
Rinse the mask and style your hair as usual.
Pros
An easy-to-use and effective hair mask that you need to use as a normal conditioner.
Treats damaged and dry hair effectively.
It has natural ingredients with no harmful effects.
Suitable for all hair types.
Manufactured in the USA.
Comes with a 30-days money-back guarantee.
Cons
It might not work at all for some people. You won't feel any change in hair texture or dryness. In such a case, you can get a full refund though.
Side Effects
There aren't any known side effects of Amplixin Hydrating Hair Mask. It has natural ingredients and is sulphate and paraben-free making it suitable for people with sensitive skin and allergies. You can give it a try fearlessly.
If you have a specific medical condition or a hair or scalp disease, please consult a medical expert before use. If you feel itching after use, remove the mask instantly from your hair, and consult an expert.
Conclusion
Treating damaged hair isn't easy. And there isn't anything better than having your hair cured by a simple hair mask that works as a conditioner. Amplixin Hydrating Hair Mask makes it convenient to cure dry and damaged hair quickly and harmlessly. It's natural active ingredients and clinically tested therapy treatment technique provide your hair, scale, stem cells, and hair follicles with all the nutrients they need.
End result?
Your hair gets thick, fluffy, shiny, and healthy right from day one. Just in case it doesn't work, or you don't like it, get your money back within 30-days of purchase. You can't refuse this offer, right?