Are you looking for the best dandruff shampoos for sensitive skin to permanently get rid of dandruff? This is the article you must read. I have reviewed the 10 best dandruff shampoos for sensitive skin, and I am sure you will find the shampoo you are looking for.
Before I move to the list of shampoos, let's understand the basics so you can fight dandruff smartly.
What Causes Dandruff?
You will experience dandruff when you have fungal yeast on your scalp. Fungal yeast feeds on natural oils on your scalp. It lives on everyone's scalp, but some people react to it, leading to inflammation, itching, and flaky skin.
According to Nunzio Saviano, dandruff results from flaking scalp which is caused by either oily skin or dry skin. Dandruff is caused by any of the following:
Poor nutritional habits
Stress
Hormonal fluctuations and variables
Poor hair care products
Not washing the scalp often enough.
You may also be affected by dandruff due to a change in season, a change in your diet, a change in your hair care products, or even the water you use. These factors react with naturally occurring yeast on the scalp known as malassezia to create flakes (dandruff).
When dandruff becomes a source of embarrassment to you, then it's time for you to do something about it. Here are a few actionable tips to fight off your dandruff so you can be free from irritating white scales falling off your hair:
1. Change Your Diet
Based on a discussion with Dr. Macrene Alexiades-Armenakas, poor nutrition can result in dandruff. She stated that consuming foods high in carb can lead to the build-up of excess glycogen in the scalp, which yeast feeds on.
I'd suggest that you avoid consuming too much sugar and carbs if you want to fight dandruff.
2. Drink More Water
Dry scalp can lead to dandruff so drinking more water can be helpful. Nunzio Saviano recommends that drinking enough water can help keep your scalp hydrated.
3. Wash Your Hair More Often
Although it is good to allow natural oils to stay longer on your scalp, it may add to the dandruff problem. Infrequent hair washing leads to the accumulation of oils and dead skin cells on the scalp leading to dandruff.
You should regularly wash your hair to reduce dandruff build-up.
4. Use a Special Shampoo
There are some special dandruff shampoos, such as, clarifying or sulphate-free shampoos, that contain zinc or salicylic acid. Such shampoos can reduce the growth and build-up of yeast on your scalp.
However, if you have sensitive skin, you have to be more careful about the dandruff shampoo or conditioner you are using as some products have a harsh effect on your scalp.
Best Dandruff Shampoos for Sensitive Skin
To get you started, I have collated a list of the 10 best dandruff shampoo for sensitive skin. These shampoos will help you fight dandruff as well as irritating scalp.
1. Nizoral A-D Ketoconazole Anti-Dandruff Shampoo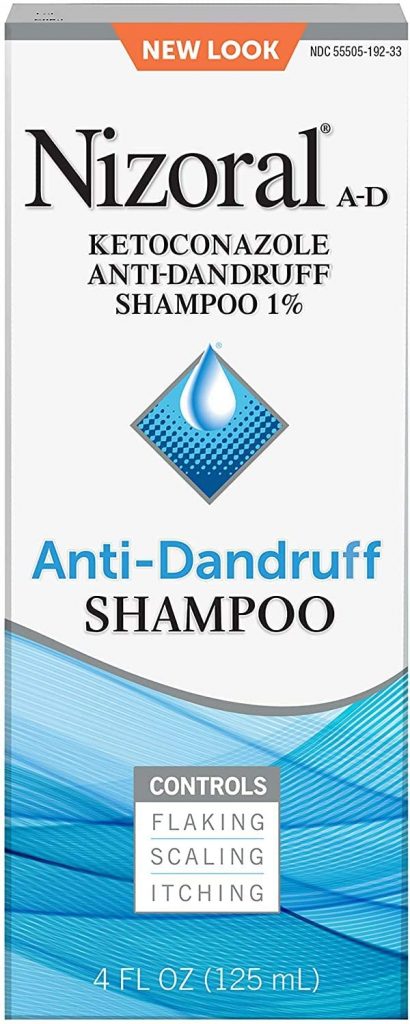 I'd say this is the best anti-dandruff shampoo for sensitive skin that will control flakes, scaling, and itching.
Nizoral Shampoo contains ketoconazole 1% as its major ingredient. Ketoconazole is a powerful anti-fungal that's commonly used in prescription-grade anti-dandruff treatments. Ketoconazole binds to your hair's natural protein to kill dandruff, make your scalp flake-free, and leaves your hair manageable and shiny.
Though it contains stronger formulas, it is gentle on colour-treated hair and offers a thick lather that leaves a clean scent behind – it works on all hair types and colours.
Use Nizoral Shampoo twice a week for the best performance. To prove its potency, it has close to 2000 customer reviews on Amazon.
2. Dove Dermacare Scalp Anti-Dandruff Shampoo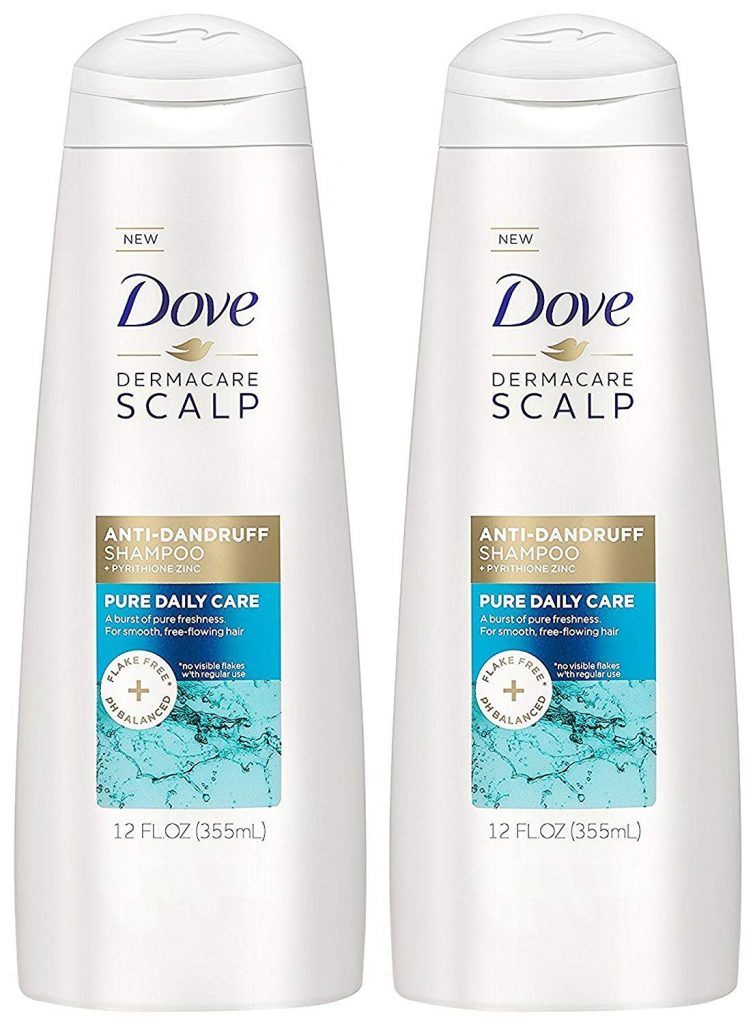 Another best anti-dandruff shampoo for sensitive skin is the Dove Dermacare Anti-dandruff Shampoo.
It has pyrithione zinc as its main ingredient. Pyrithione zinc is potent at reducing the yeast that causes inflammation on your scalp, which is the major force behind flakes.
Dove Dermacare anti-dandruff shampoo contains hydrating ingredients, such as shea butter, which is lacking in many other anti-dandruff products. While Pyrithione zinc makes your hair flake-free, the Shea butter makes your hair looks shiny and healthy.
I'd recommend using it twice or thrice a week.
3. Head & Shoulders 2-in-1 Anti-Dandruff Shampoo and Conditioner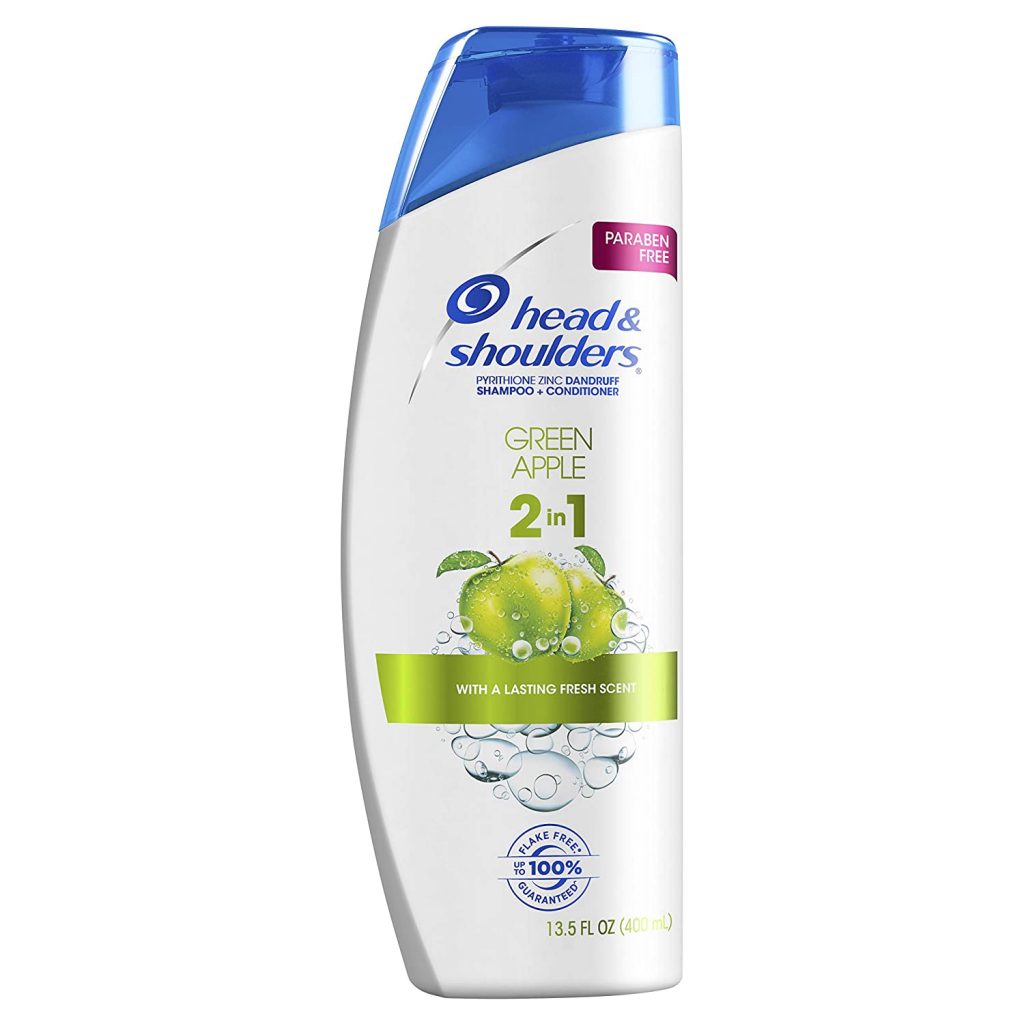 Head & Shoulders 2-in-1 Anti-Dandruff Shampoo and Conditioner is a go-to dandruff treatment for any reason.
It is formulated with pyrithione zinc to fight against your hair itchiness, dryness, and flakes. More so, being a 2-in-1 formula, it provides additional conditioning action and a crisp green apple scent, which all leave your hair feeling and smelling fresh.
It is a gentle shampoo that's specially designed to prevent your hair from drying out and it doesn't irritate the scalp.
If you're looking for a tried-and-true formula that has stood the test of time, look no further. Head & Shoulders 2-in-1 Anti-Dandruff Shampoo and Conditioner is very effective at controlling and treating dandruff.
4. Neutrogena T/Sal Shampoo Scalp Build-Up Control

Neutrogena T/Sal scalp build-up control shampoo is formulated with 3% salicylic acid. Salicylic acid is well-known for its acne-fighting properties and your scalp benefit from this also.
Salicylic acid is clinically proven to decrease inflammation and stop dandruff and scalp irritation. It helps to remove excess oils for the scalp and treats scalp psoriasis and seborrheic dermatitis.
Note that while Neutrogena T/Sal Shampoo Scalp Build-Up Control is very effective for some people, it can be too harsh and cause hair dryness for others, especially if you have colour-treated hair. So, I'd recommend that you use this product with a very good hair conditioner.
5. L'Oréal Paris EverFresh Sulphate-Free Anti-Dandruff Shampoo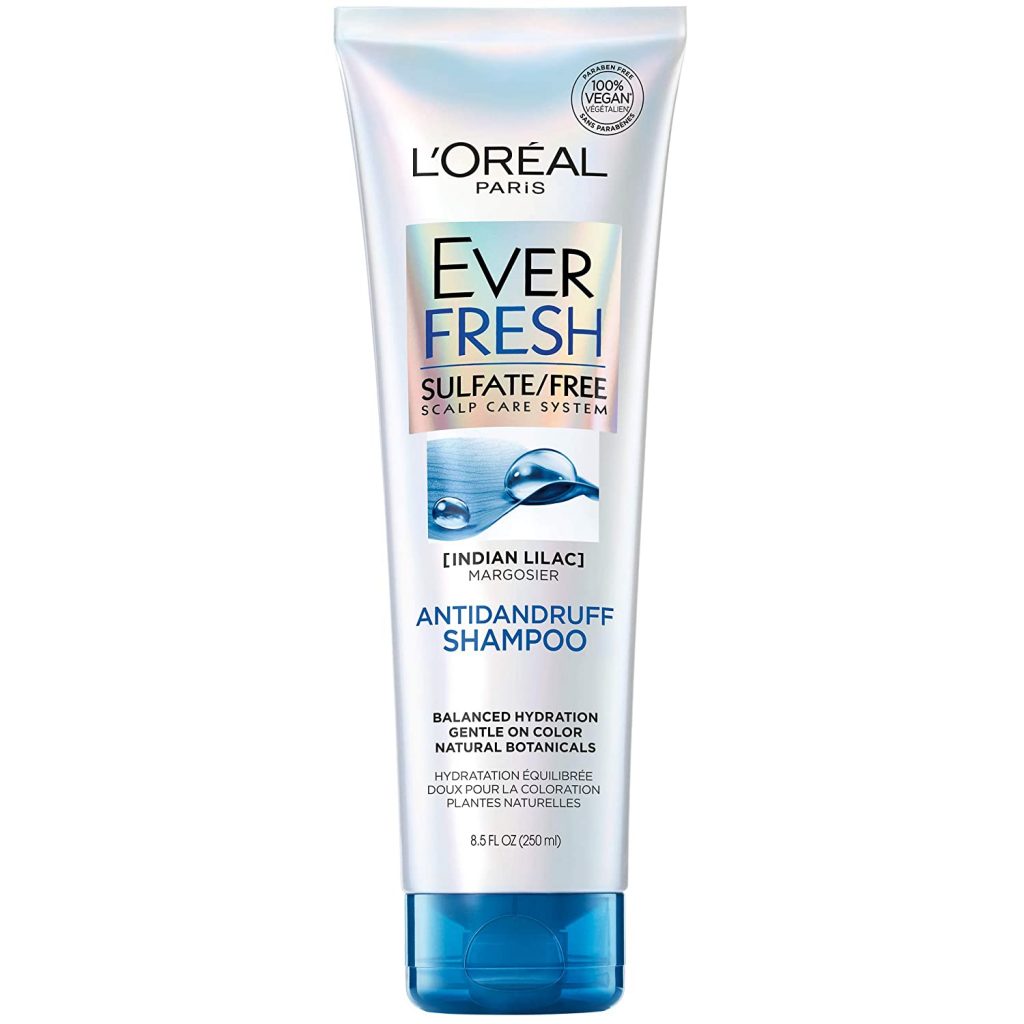 I recommend L'Oréal Paris EverFresh Sulphate-Free Anti-Dandruff Shampoo if you have colour-treated hair. Why should you sacrifice your proper colour care to treat your dandruff? One reason why I recommend this sulphate-free, Pyrithione zinc-based shampoo because it will reduce your flaking, itching, and irritation and yet keep your hair dye jobs intact and nourish your hair.
It comes with a pleasant, non-medicinal smell to keep your hair fresh. So, if you have colour-treated hair, this shampoo product is your safe bet – it is void of surfactants, salts, and sulphates that can strip or dull your hair colour.
6. Neutrogena T/Gel Therapeutic Shampoo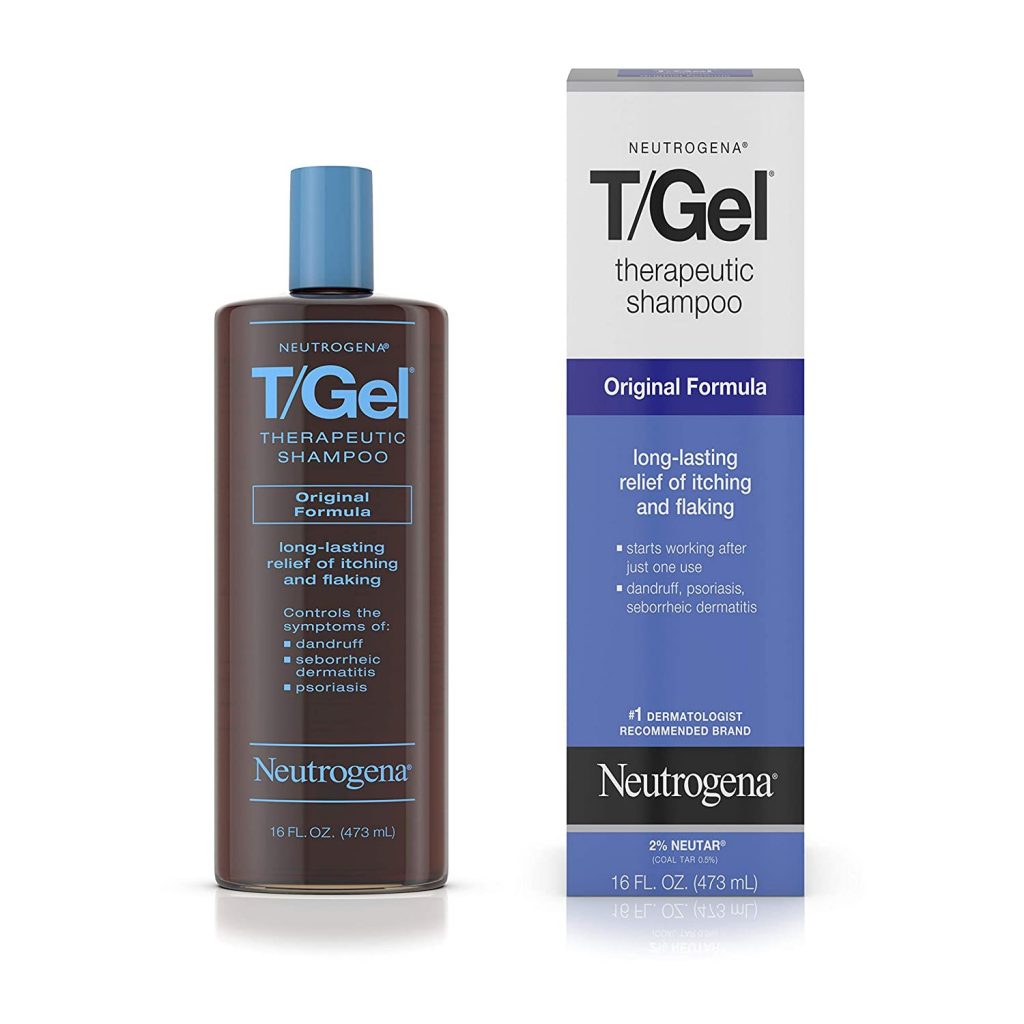 Neutrogena T/Gel Therapeutic Shampoo is the number one recommended scalp treatment product. It should be together with a mild anti-dandruff shampoo and conditioner to get long-lasting relief from itching and flaking.
It contains coal tar, which helps in reducing scalp inflammation. This product can help control scalp itching and flaking caused by chronic scalp psoriasis, seborrheic dermatitis, and even common dandruff.
For best results, apply and gently massage this therapeutic shampoo into your scalp, lather, and leave on your hair for about five minutes. Then, thoroughly rinse your hair, and wash again as you would normally.
Even after the shampoo is rinsed off, the coal tar will continue to work for hours. This therapeutic shampoo is designed for daily use and should be used at least twice a week or as directed by a doctor for the best performance.
7. Nioxin Scalp Recovery Medicated Cleanser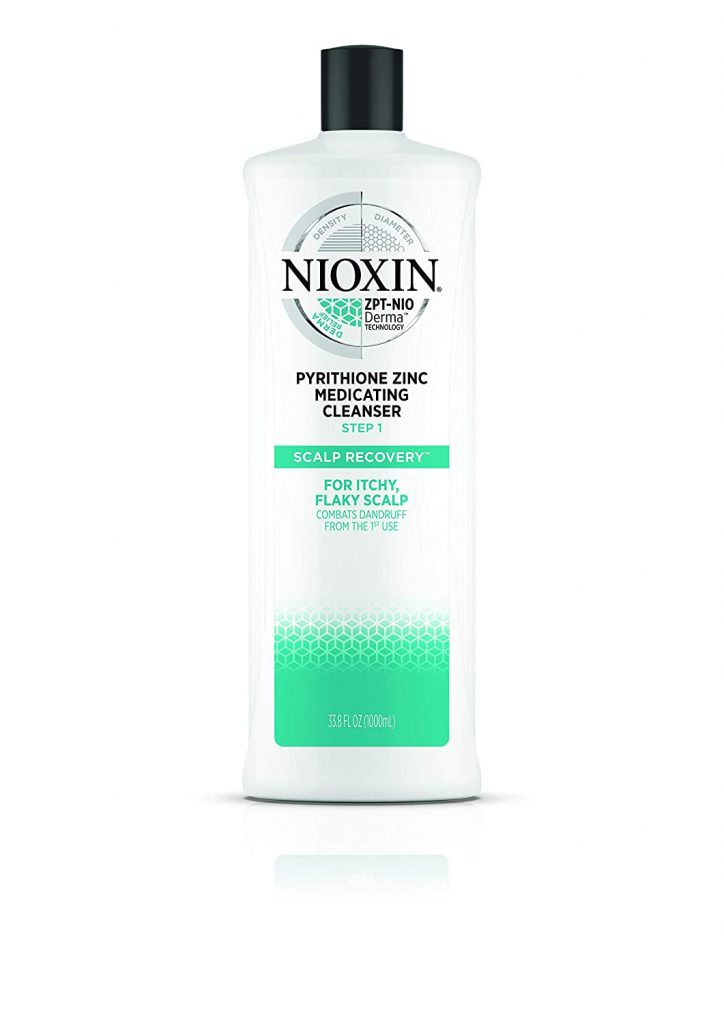 Nioxin Scalp Recovery Medicated Cleanser contains a blend of 1% pyrithione zinc and moisturizing green tea polyphenols. This makes this product effective at soothing anti-dandruff shampoo.
It also contains peppermint oil and menthol to offer some cooling relief as you wash.
Combat your dandruff and relieve other symptoms of dandruff, like itching and flaking with this product right from its first use. Nioxin Scalp Recovery Medicating Cleanser is known to restore the natural scalp balance.
8. Matrix Biolage Anti-Dandruff Shampoo

Matrix Biolage Anti-Dandruff Shampoo is a soothing shampoo that combines Pyrithione zinc with cooling mint to relieve an irritated scalp while treating the dandruff problem at the source.
It contains a creamy formula that lathers up generously for a deep cleanse. This is undoubtedly one of the best dandruff shampoos for sensitive skin I've ever seen.
Matrix Biolage Anti-Dandruff Shampoo purifies your hair for a healthy-looking, clean scalp. It also removes excess scalp debris and washes away impurities. The mint cleanses and adds cooling relief to your irritating scalps.
With over 300 reviews on Amazon, it is a professional solution to treat itchy, flaky scalps.
9. HoneySkin Tree Oil Shampoo Conditioner Set
HoneySkin Tree Oil Shampoo Conditioner Set is mainly a tea tree oil shampoo for dandruff treatment. It also contains coconut oil for hair loss prevention and Manuka honey, which makes it the best dandruff shampoo for sensitive skin.
The manuka honey helps to prevent damage that is caused by bacteria, thus assisting the skin surface healing. This will help the body in repairing tissues while nourishing the scalp. The manuka honey also soothes itchy scalp and thickens the hair.
It is free from paraben and sulphate and contains all-natural ingredients. It is a hair shampoo that will revitalize your hair follicles and make them super shiny.
Aside from fighting dandruff, it can unclog pores thus helping in the treatment of underlying problems that may cause hair thinning.
However, it can cause irritation and some severe allergic reactions in case one inhales it or gets in direct contact with the skin – so you need to be careful with handling.
10. Selsun Blue Moisturizing Dandruff Shampoo with Aloe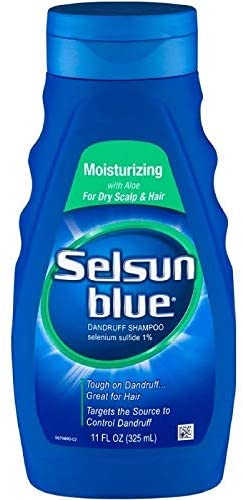 Selsun Blue Moisturizing Dandruff Shampoo with aloe contains selenium sulphide, which combats the overproduction of yeast on your scalp. It contains calming aloe vera, which will help nourish your hair and soothe your dry, itchy scalp.
This anti-dandruff shampoo works on dry hair, thin hair, thick hair, perms, colour treated hairstyles, blowouts, etc. However, if your hair is coloured or permed, you need to give your hair an extra thorough rinse. Doing this will help your hair retain its hue and shape.
Final Thoughts
Overall, the 10 best dandruff shampoo listed above provide an affordable and lasting solution to factors that contribute to dry and flaky scalp, especially the fungus that causes dandruff. Most of these products contain antiseptic and antimicrobial ingredients that can help to cleanse small pores in your scalp, as well as hydrate and moisturize your scalp and hair, and clear the build-up of dandruff.
Featured image by Pexels.