You wouldn't like to look in the mirror and see white flakes all over your scalp or get white flakes falling all over your shoulders when you brush or comb your hair. It is a depressing scene but don't panic, this Australian Bodycare Tea Tree Oil Shampoo review will help you get out of this scary situation.
Dandruff is both frustrating and uncomfortable. Dr. Amy McMichael says, a professor at the Department of Dermatology at Wake Forest Baptist Health, most people believe that dandruff is always dry and results in scaling scalp, but it is more of greasy, flaky hair problem.
If you have dandruff, the key to finding a solution is getting a good dandruff product. Aside from using heat styling tools or avoiding too hot water, you can manage your dandruff by switching to the best anti-dandruff shampoo and conditioner.
Although there are several good anti-dandruff products out there that you can lay your hands on, when you shop for dandruff treatment products, always ensure that you look out for the ingredients.
Yes, looking at the ingredients is vital. The product must contain ingredients that are effective in fighting dandruff-causing bacteria, reduce flakes, and soothe itching and irritation.
Before you choose any anti-dandruff product, you must become a dandruff detective. This means you have to trace back to when you first noticed the ugly flakes. Ask yourself:
Did you change anything in your daily routine?
Did you change your shampoo or conditioner?
Did you change your environment?
Did you change how often you shower?
These and other related questions will help you identify the change that led to dandruff and you will be in a much better position to treat it and find a relevant dandruff shampoo.
To help you get started, I'd recommend Australian Bodycare Tea Tree Oil Shampoo as your best anti-dandruff hair product. This choice is based on my experience. The Australian Bodycare Tea Tree Oil Shampoo is proven to fight off dandruff and soothe the irritating scalp.
Here is a detailed Australian Bodycare Tea Tree Oil Shampoo review to help you with decision-making:
What is the Australian Bodycare Tea Tree Oil Shampoo?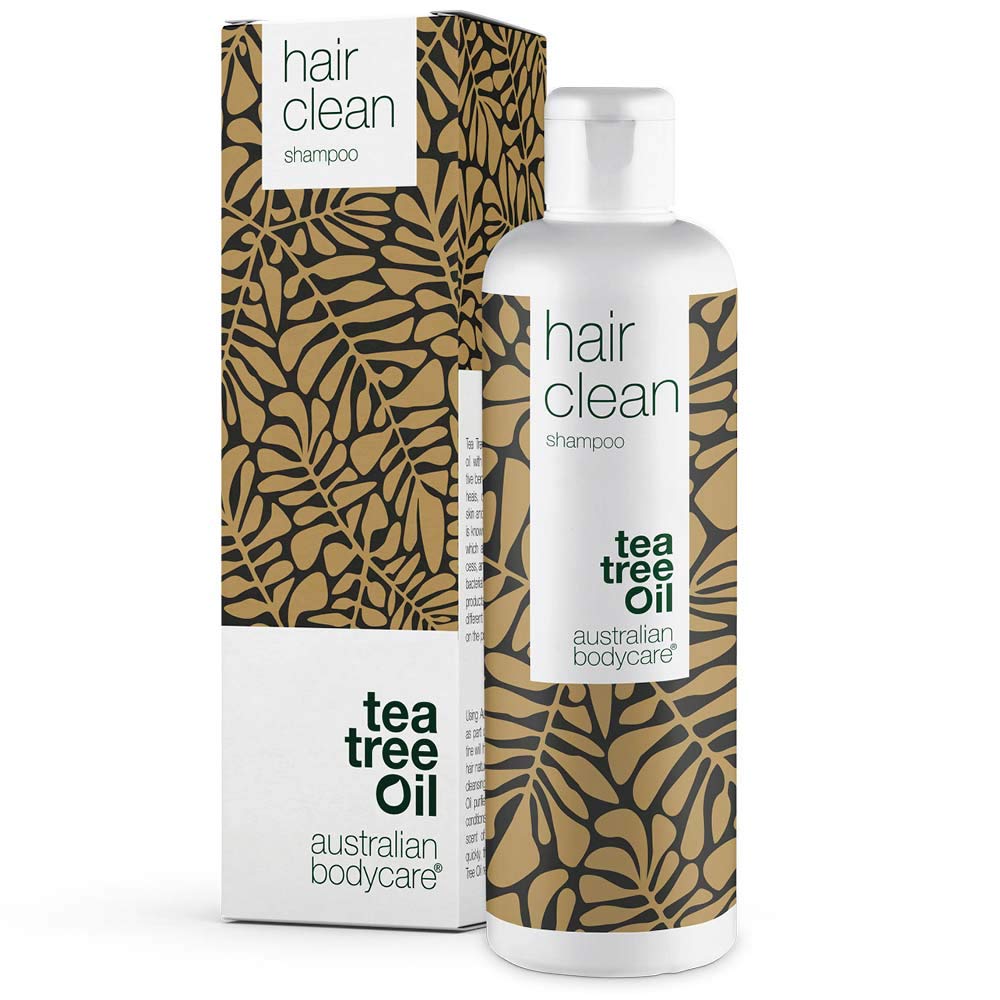 Australian Bodycare Tea Tree Oil Shampoo is one of the best and suitable anti-dandruff hair products that effectively work to treat flakes and scaly scalp. It uses 100% natural tea tree oil to achieve this.
Australian Bodycare Shampoo is specifically made for dry, itchy, flaky, and sore scalp. It focuses on cleaning, hydrating, moisturising, and calming the most irritating areas of your scalp. It worked for me and has reportedly worked for several other customers who gave their testimonials and positive reviews.
Australian Bodycare Shampoo is loaded with a range of natural mineral ingredients and is made for regular use to help you tackle your dandruff.
Features
Here is a list of the major features of Australian Bodycare Tea Tree Oil Shampoo:
Australian Bodycare Tea Tree Oil Shampoo is the best all-natural hair product that is made from natural and active ingredients approved by the experts
It helps prevent dandruff and soothes itchy scalp
It contains natural Australian tea tree oil (2%) of pharmaceutical grade and is 100% vegan
It works for both men and women
It is colourless, clear, natural shampoo
It cleanses your hair and scalp
It lathers and rinses easily
It contains peppermint to give you a cool and refreshing effect
It is suitable for normal and greasy hair.
Australian Bodycare Tea Tree Oil Shampoo Ingredients
Tea tree oil and melaleuca alternifolia leaf oil are the main active ingredients of this amazing shampoo. These oils are rich in natural fatty acids and deliver moisture to your scalp.
The tea tree oil contains oleic, which made up about 40% of its content. It is responsible for moisturizing your hair and scalp bringing along its high concentration of omega 3 fatty acids and omega 6 fatty acids.
Other ingredients include:
Peppermint
Provitamin B5
Aqua
Sodium laureth sulfate
Glycerin
Cocamidopropyl betaine
Sodium cocoamphoacetate
Citric acid
Sodium chloride
Phenoxyethanol
Tocopherol
Potassium sorbate
Sodium benzoate
Limonene
Linalool.
How to Use Australian Bodycare Tea Tree Oil Shampoo?
Here is how to use it:
Wet your hair and apply Australian Bodycare Tea Tree Oil Shampoo
Lather it well
Move your hand from root to tip and massage your scalp lightly without scrubbing
Wait for one to two minutes and wash it thoroughly
To get the best results, I'd recommend that you use it in combination with the Australian Bodycare Scalp Cure Treatment Mask that effectively removes bacteria.
Pros
It moisturises your hair and scalp to combat dandruff and itching
It contains natural ingredients with no negative harmful impact on your hair or scalp
It performs a deep cleansing
It contains natural tea tree oil that is very effective in fighting dandruff
It comes with a 100% money-back guarantee. You can return and get your money back in 180 days.
Cons
It contains sodium laureth sulfate (SLS) that is known to dry hair. I'd recommend using a conditioner like the Australian Bodycare Tea Tree Oil Conditioner to avoid hair dryness
The strong smell of tea tree oil maybe choking.
Australian Bodycare Tea Tree Oil Shampoo Reviews
Australian Bodycare Tea Tree Oil Shampoo has been reviewed by 374 customers on Amazon with 4.2 stars. It has received 5-stars from 63% of customers that show how awesome the shampoo is. It is an Amazon's Choice shampoo that is another achievement.
Customer review analysis revealed the following three major features of the Australian Bodycare Tea Tree Oil Shampoo:
Tea tree oil
It works well
Dry scalp and cleans hair
This sums up how the shampoo turns out to be.
Australian Bodycare Tea Tree Oil Shampoo FAQs
If you still have unanswered questions about the tea tree oil shampoo, check out the following FAQs:
Is Tea Tree Shampoo Good for Your Hair?
Of course, it is. A study found that 5% of tea tree oil in a shampoo resulted in as much as 41% improvement in dandruff. The findings also revealed that tea tree oil shampoo improved the itchiness and greasiness of the scalp. Another study found the effectiveness of using tea tree oil for curing acne and blemishes that show its ability to improve scalp.
Can I Use Tea Tree Shampoo Every Day?
It depends on what brand you are using. Generally, using tea tree shampoo daily has no known side effects. However, you should follow the manufacturer's instructions. If you are using Australian Bodycare Tea Tree Oil Shampoo, you can safely use it every day as this is what the manufacturer recommends.
Is Tea Tree Good for Itchy Scalp?
Yes, it is exceptionally good for itchy scalp. A shampoo that only contains 5% of tea tree oil will help you get rid of itchy scalp. Several studies (e.g. this and this) have clearly shown how useful tea tree oil is for itchy scalp and skin-related problems (e.g. acne). You can safely Australian Bodycare Tea Tree Oil Shampoo to get rid of itchy scalp forever.
Does Tea Tree Shampoo Thicken Hair?
Yes, it does as long as you are using a tea tree shampoo that's specifically a thickening shampoo like Tea Tree Lemon Sage Thickening Shampoo. It will make your hair thick, clean, and healthy. It contains a special thickening agent (along with tea tree oil) that makes our hair thick and strong.
Which Tea Tree Shampoo is Best?
The 5 best tea tree shampoos to cure dandruff, itchy and greasy scalp, and oily scalp are:
Conclusion
This tea tree oil shampoo is one of the most efficient and easiest ways to remove dandruff from your scalp and avoid all other scalp maladies. If you're experiencing dandruff or suffering from an itching scalp, grab your bottle of the all-famous Australian Bodycare Tea Tree Oil Shampoo by clicking here.