If you are struggling with hair loss and want to regrow your hair fast, you need to read this Regaine foam review. It claims to regrow your hair in as low as 8 weeks. Does Regaine foam really work? How effective Regaine foam is? Does Regaine foam have any side effects?
This review has all the answers, keep reading…
Hair shedding is a normal phenomenon. Everyone sheds at least 80 hair strands daily. However, when hair shedding becomes excessive and you shed over 100 hair strands daily, then you're experiencing hair loss, especially if you notice that the hair isn't growing back.
When it comes to excessive hair shedding, there are several causes. This means that identifying the exact reason why your hair is shedding is critical but at the same time, it is tricky.
According to Anabel Kingsley, a hair loss expert, hair loss or excessive hair shedding can be caused by aging and menopause, dramatic weight loss, hormonal imbalance, iron deficiency/anaemia, stress, vitamin B12 deficiency, etc.
Of all these causes, the most common cause of hair loss is androgenetic alopecia, which is known as male pattern baldness.
What is Androgenetic Alopecia?
Androgenetic alopecia is a hereditary condition caused by dihydrotestosterone (DHT), a derivative of the male hormone testosterone. DHT binds to and causes the hair follicles to shrink, thereby killing healthy hair.
Since women have a lower level of testosterone in their bodies, they tend to produce a lower quantity of DHT. Hence the impact of DHT in women is lower than in their male counterparts.
Nevertheless, women tend to experience hair thinning on the top and sides of the scalp while men tend to experience a receding hairline which can progress to either partial or complete baldness.
If you're experiencing hair loss or excessive hair shedding, here is good news for you: Regaine is a treatment for hereditary hair loss (androgenetic alopecia or male pattern baldness) in both men and women. Regaine foam is licensed for use by men and women aged 18 to 49.
Here is a Regaine foam review to enable you to learn all about it.
What is Regaine Foam?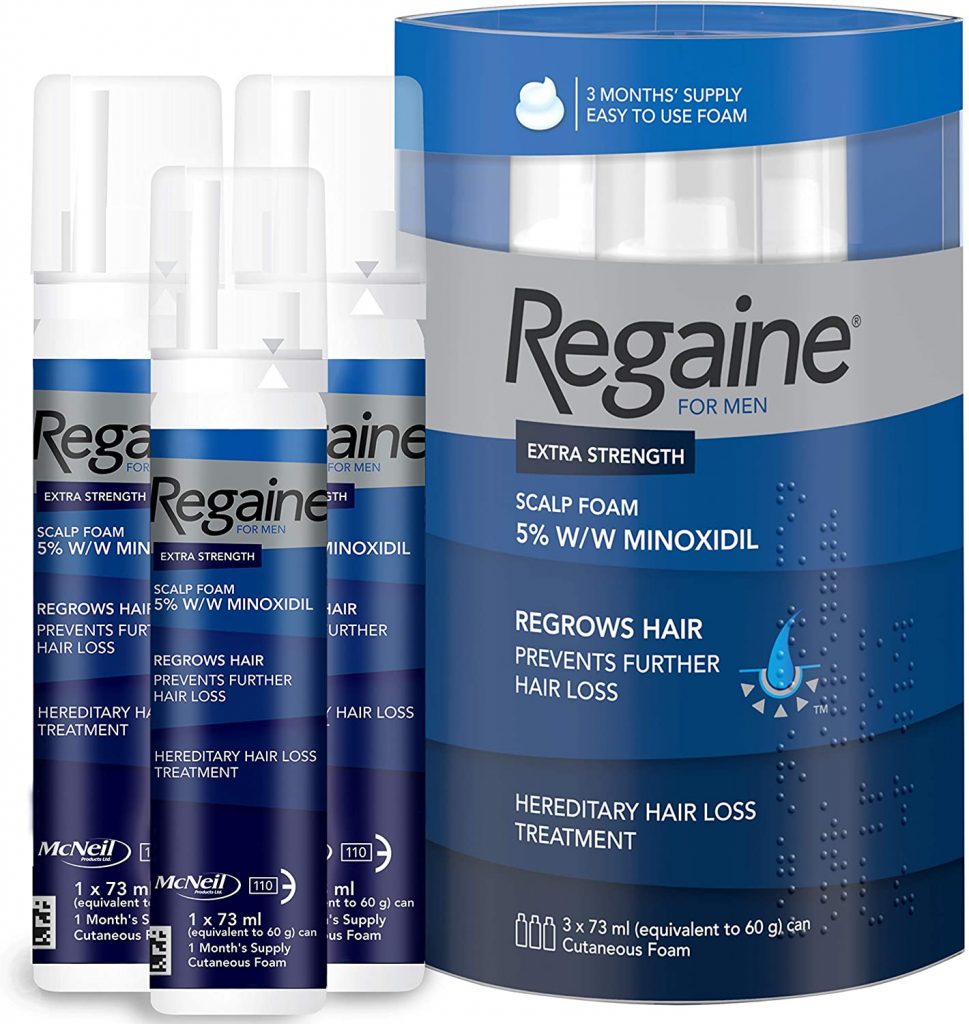 Regaine Foam is a clinically proven hair regrowth scalp foam that works in as low as 8 weeks. It contains minoxidil as its active ingredient. Minoxidil is the only over the counter clinically proven active ingredient that helps stop and reverse hereditary hair loss.
Minoxidil was first used in tablet form as a medicine to treat high blood pressure. It lowers blood pressure by dilating the blood vessels. It was noticed that some people taking minoxidil experienced excessive hair growth as a side effect, and further research showed that hair growth could be stimulated by applying a solution of minoxidil directly to the scalp.
When applied to the scalp, minoxidil dilates the tiny blood vessels in the scalp, which increases the blood circulation to the hair follicles, stimulating hair growth.
Regaine Foam Features
Here are the major features of this amazing scalp foam:
Regaine foam helps treat hair loss and regrow hair. It is ideal for use at the early stages of hair thinning.
This fast-working hair regrowth treatment is clinically proven to regrow up to 25% more hair in 12 weeks.
Unlike hair loss shampoos and hair thickening shampoos that temporarily plump hair from the outside, Regaine foam penetrates the scalp to reactivate shrunken hair follicles resulting in hair regrowth.
The minoxidil boosts hair follicle activity on your scalp and hair protein production while Tricho-Prime technology ensures hair regrowth.
Regaine foam contains botanical extracts and emollient to help maintain a healthy, conditioned scalp, plus alphahydroxy acid (AHA) to promote natural skin exfoliation to help keep follicles open.
It comes in a no-mess foam that is easy-to-use and is designed to fit easily into your routine.
Regaine Foam Ingredients
The active ingredients include minoxidil 5% for men, 2% for women. Minoxidil increases the blood supply and nutrients to hair follicles assisting in strengthening existing hairs and encouraging growth.
Here is the list of other essential ingredients:
Purified water
Lactic acid
Citric acid anhydrous
Glycerol
Cetyl alcohol
Stearyl alcohol
Propane
Butane
Isobutane.
All the ingredients are natural and healthy. There isn't anything that might harm your hair or scalp.
How to Use Regaine Foam?
Using Regaine foam is easy and fun. First, make sure your hair and scalp are dry.
Take 1g of foam (which is the volume of half a capful) and massage on the affected areas of the scalp gently. Use your fingertips to massage the foam into the entire bald area.
Do it twice a day for at least two months.
You might experience increase hair fall in the first two weeks. If this happens, don't panic. It is natural and a good sign. It indicates that the new hair growth cycle is about to start.
Pros
There are a lot of great things that I like about Regaine foam including:
Works quickly and stops hair loss
Regrows hair permanently
Empowers your hair follicles by providing them with nutrients they need for hair growth
Improves blood circulation in the scalp
Natural, healthy, and harmless ingredients
Has a pleasant and neutral fragrance.
Cons
If you are concerned about the drawbacks of Regaine foam, check out the following list of the things I don't like:
May lead to complications if the skin on your scalp is broken, inflamed, irritated, infected, shaven, or painful
Doesn't work for a receding hairline
Doesn't work for everyone. You don't want to be the one who doesn't get his hair back after continuous use.
Regaine Foam FAQs
If you still have questions about Regaine foam, I have prepared a list of frequently asked questions that people usually ask before buying or using it:
Does Regaine Foam Really Work?
It works if you have hereditary hair loss. It works by regrowing hair in the bald patches, reduction in hair loss, and growth of healthy and strong hair and hair follicles. However, it doesn't work for everyone.
What Are the Side Effects of Regaine Foam?
You could experience any of the following side effects:
Scalp irritation
Hair loss (which is said to be a positive sign, but you must check with your physician if it prolongs)
Dizziness and headache
If you experience any of these or any other unusual sign in your body, stop using the foam and consult an expert.
How Long Does it Take for Regaine to Work?
It could work anywhere between 8 to 16 weeks. In most cases, you will be able to see results in as low as 8 weeks. This is an ideal situation though. If you don't see any results after continuous and recommended use for 16 weeks, stop using it further.
Can I Use Regaine to Thicken My Hair?
It depends. It isn't made for hair thickening but since it has minoxidil as its active ingredient, it might thicken your hair. However, I won't recommend it specifically for hair thickening. Use some other shampoos (like Cel Microstem Shampoo) for hair thickening that specifically deal with thin hairs.
Can Hair Grow Back After Balding?
It depends on what caused the baldness. If it is hereditary, Regaine foam can help you grow hair. If it is some other type of baldness or hair loss, Regaine might not work in that case.
Are Regaine and Rogaine the Same?
Yes. Regaine and Rogaine are both manufactured by Johnson & Johnson Limited. Regaine is sold in the UK while Rogaine is sold in the USA. Both the products have the same formula but are sold in different geographic locations.
Conclusion
With the Regaine foam review above, you would have seen how useful it is in fighting hereditary hair loss in men. Do you want to combat hair loss and grow fuller hair too? If so, purchase Regaine foam now by clicking the button below: