Since the beginning of time, women of all races have been obsessed with beautiful skin, hair, and nails. You see this in the number of women at your salon every week when you visit. It's easy to tell from the number of customers queuing up at the beauty stores every day, buying products that may or may not work.
The beauty industry, a billion-dollar industry thrives on this obsession. Manufacturers with their secret potions, fancy bottles, and advertising gimmicks all clamouring to get a bit of our money. And it seems that we're always ready to hand it to them.
All we need to hear is that there's a product that can grow our hair faster than the speed of light. Or that for our skin there's a lotion that will stop the signs of aging before we can say freeze! Seems to me like in this world of vanity, we're Cinderella's and cosmetic manufacturers are the fairy godmothers ready to grant our every beauty wish (as long as you pay for them).
In this in-depth Skinception Argan Oil review, you will find out how it can help you with dandruff. But first things first, what is argan oil?
Argan Oil
Oils have been in the spotlight for quite some time now especially as they pertain to skincare. There's been a rave for shea butter, coconut oil, and even grapeseed oil but it seems like the spotlight is on argan oil now and with good reason.
First, you might have only just heard about argan oil but it's been around for thousands of years, no jokes. It is extracted from the kernels gotten from the argan trees that are native to Morocco in North Africa. It's been used by the Moroccan women since the beginning of time to take care of their skin and hair.
It's the secret to their healthy skin and hair and if you've ever had the traditional hammam spa treatment, you already know what I'm talking about. And if you don't, get your pens and paper out, you're about to get schooled.
Argan Oil Ingredients
Argan oil is truly a very rich oil with several minerals in it that you can draw benefits from.
Tocopherol
Also known as Vitamin E, this is an antioxidant that protects your skin from the damaging effects of free radicals. And it's one of the things that make argan oil so special.
Did you know that argan oil has a whopping 300% more vitamin E content than olive oil?
Yep, that's right.
Squalene
This is a substance naturally produced by your skin which also has anti-oxidant qualities. It promotes the healing of wounds and it also has anti-bacterial properties which makes it beneficial in the treatment of psoriasis or eczema.
Polyphenols
Argan oil contains polyphenols which also protect your skin from free radical damage and oxidative stress.
Fatty Acids
It contains essential fatty acids which keep your cell membranes healthy, help with moisture retention and are necessary to improve the elasticity of your skin.
Ferulic Acid
This is a rare and valued anti-oxidant. It becomes more potent when exposed to sunlight and this helps it protect the skin from sun damage.
Oleic and Linoleic Acids
Argan oil contains oleic and linoleic acids which are necessary for the formation of prostaglandin which is an anti-inflammatory and healing agent.
Sterols
Sterols prevent premature aging and help keep the barrier of the skin in good condition.
D-7 Stigmasterol
This helps to protect against several skin diseases and promotes the healing of wounds on the surface of the skin.
Benefits of Skinception Argan Oil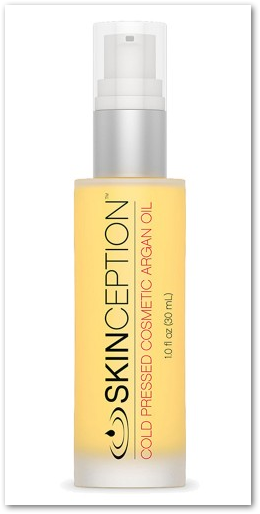 Here are the leading benefits of using Skinception cold pressed cosmetic argan oil.
Helps Fight Dandruff
One of the major causes of dandruff is a dry scalp. Argan oil will remedy this by intensely moisturizing your scalp. Also, because it is high in antioxidants, it can help to reduce inflammation and itchiness. And then its essential fatty acids nourishes and repairs damaged cells to make your scalp healthy again.
Helps Minimize the Signs of Aging
Argan oil is able to prevent the signs of aging by preventing the fusion of DNA regeneration and proteins which cause aging. The result is that your skin looks younger for longer.
Fights and Prevents Sun Damage
It has antioxidants and high amounts of Vitamin E that stop the sun and free radicals from wreaking havoc on your skin.
Minimizes Fine Lines and Wrinkles
It refreshes and transforms dry and dull skin as well as improves the appearance of fine lines and wrinkles to leave you with glowy, radiant skin.
It Hydrates Your Skin
It increases the moisture content of the skin by restoring the hydrolipidic film of the skin. The result of using it consistently is better moisture retention and hence skin that is visibly suppler.
Collagen and Elastin Repair
Argan oil has high levels of collagen which make the skin firmer, more elastic and youthful.
Provides Relief from Psoriasis and Eczema Prone Skin
Using argan oil daily on the affected areas diminishes the symptoms and promotes healing of the affected area.
Guess you're buzzed by all the great benefits of argan oil but note that you can only get these benefits when you're using the real thing. In other words, 100% undiluted cold pressed argan oil and that's where Skinception argan oil comes in.
Skinception Cold Pressed Cosmetic Argan Oil
Argan oil is the best and most effective in its pure and undiluted form. This is because studies have shown that mixing argan oil with other ingredients actually reduce its efficacy. So basically, all those skin and hair care ingredients with argan oil in their ingredient list have been wasting our time and resources?
Well, apparently so.
Skinception claims that their product is 100% pure and cold pressed argan oil with no additives or preservatives. Just the way nature intended for you to get it.
Uses of Skinception Argan Oil
Here are a few major uses of Skinception cold pressed argan oil.
As Anti-Dandruff Treatment
Argan oil can also be used as an anti-dandruff treatment. Because of its moisture retention abilities, it's able to intensely moisturize your scalp and fix issues like dryness. To use it as a treatment for dandruff, here are two ways you can use it:
Simply massage some of it into your scalp every day. The great thing is that it's a super-light oil so it wouldn't make your scalp greasy.
As a deep conditioning treatment – massage the oil into your scalp and wrap with a warm towel for about 20 minutes. Then wash gently (do not scrub) with a sulphate-free shampoo. This will help to remove flakes.
Manage Frizzy Hair and Split Ends
Argan oil is wonderful for your hair and scalp. It nourishes your scalp and can help with minor forms of dandruff. It also helps to tame split ends and manage damaged hair. It can be used on your ends as a daily sealant and also as a deep moisturizing treatment.
Strengthen Brittle Nails
Few oils have the properties necessary to soften your cuticle and encourage nail growth. So if you have brittle nails, this might just be the fix you need. If you have dry, rough hands, massaging them with argan oil daily will make a difference in how they look and feel.
Manage Acne-Prone Skin
If you have acne, you're probably wary of using oil on your skin because you feel it could worsen it. Well, argan oil has a comedogenic rating of 0. This means that there's no chance of it clogging your pores and worsening your breakouts. Also, it's anti-inflammatory, anti-bacterial and antiseptic qualities help to fight acne and keep your skin clear.
Daily Moisturizer
Argan oil is super light, non-greasy and it's fast-absorbing. So you can use it as your daily moisturizer and it is suitable for all skin types. It also works well as a make-up base. As a moisturizer, it is certainly a better alternative to manufactured products with synthetic ingredients you can't pronounce.
With daily use, you'll find your skin take on a radiant appearance.
Pros
100% natural
Cold pressed for a longer shelf life
No additives or preservatives
High in antioxidants
Natural skin moisturizer
Lightweight and fast-absorbing
Non-comedogenic
Suitable for all skin types
Strengthens nails and softens hands
Nourishes and heals damaged hair
Minimizes skin aging
Vegan and gluten-free
Paraben and cruelty-free
Odourless
Another wonderful benefit of the Skinception argan oil is that it supports fair trade. What this means is that the Berber women in Morocco who produce this wonderful oil are fairly compensated for their labour.
Cons
It is expensive.
This is not surprising and actually, it is understandable considering where Argan oil is sourced from. Like I mentioned earlier, argan oil is gotten from argan trees in Morocco. But did you know that these trees are only found in Morocco? In fact, only in specific areas of Morocco. So basically, all the argan oil that the rest of the world uses comes from a village in Morocco.
Also, the oil is manually produced by local women without machines to assist them. This is to ensure that the oil remains in its original potent form when it gets to you. But this puts a limitation on the quantities they can produce daily. These are some of the factors that make argan oil expensive and for these same reasons, I doubt that it'll ever be cheap. And by cheap I mean sold at the same price as coconut oil or shea butter.
Just to warn you though, if you ever find argan oil sold anywhere and it is ''cheap'', I can assure you that what you're buying is not 100% argan oil. It'll most likely be a blend of argan oil and synthetic oils so please be guided. If you want the real deal which is 100% natural, cold-pressed argan oil then that's what the manufacturers at Skinception are offering you.
Side Effects
There are no side effects with using this product. It is completely safe and suitable for even the most sensitive skins. However, in the unlikely event that you experience a negative reaction, discontinue use immediately.
Where to Buy Skinception Argan Oil
You can order Skinception cold pressed argan oil online easily. The thing is, the oil is available at multiple stores and retail stores but if you want to get original Skinception cold pressed argan oil right from the manufacturer, you need to buy it here. If you will buy it from any other place, you might get a copy of Skinception argan oil and it won't work.
In order to get the original product, buy it from Skinception directly. Click here to place your order.
If you are in the UK, shipping is free. You can have it delivered to your doorstep without paying any shipping cost.
Final Thoughts
Several oils are great for hair and skin but it is not for nothing that argan oil has been referred to for centuries as liquid gold. What I'm trying to say is that all oils are not made equal. Argan oil is truly a valuable oil with wonderful benefits for your hair, skin, and nails and I'm glad that people are finally waking up to realize how effective it is.
And this isn't about some trend that is going on right now. Nah, the Skinception argan oil is not a trend. It's a movement that gets you to healthy hair and flawless skin and you need to get on that train like yesterday.
So if you've got dandruff, there's no need scratching your head in confusion any longer, argan oil will fix up your scalp. But remember, it's got to be Skinception.