Hair is an important feature that either adds or takes away how attractive a person is perceived to be. Hair that is full, shiny, and well-kept gives off a look of health, vitality, and beauty.
While being bald in it isn't always such a bad thing (a lot of men rock that looks), most people would rather have thick and healthy hair.
If you've ever suffered from hair loss, you most likely had the first-hand experience of a decline in confidence and probably a bit of embarrassment. People in this dilemma usually try all kinds of remedies to get their hair back.
This Foliactive laser comb review is meant to show you a reliable and realistic method of solving hair loss problems. It will show you why the Foliactive Laser Comb is probably the best news you would read about today to combat your hair loss problems.
In this detailed Foliactive Laser Comb review, you will find everything that you need to know about this amazing product and why you should use it.
What is the Foliactive Laser Comb?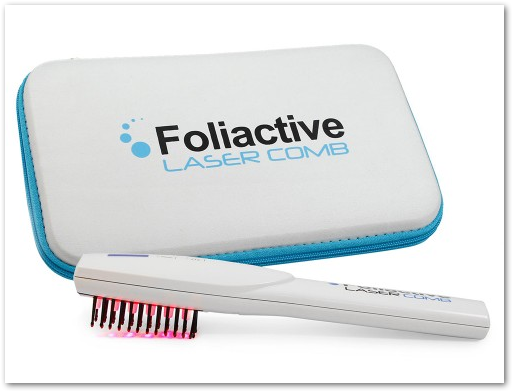 A large percentage of people begin to notice the thinning of their hair from the age of 35. By the time they are 50, the number goes up another 15%. For many decades, people have tried to combat this worrisome phenomenon with the use of shampoos, creams, and the likes. In recent years, technological advancements have come up with modern and effective ways of combating hair loss.
Most recently invented is the Foliactive Laser Comb (FLC). It is a handheld device created as an option to the otherwise aggressive techniques of strengthening hair and preventing hair loss.
You see, it doesn't use some rocket science technology. Foliactive Laser Comb uses safe and effective light emissions as well as vibrations that will penetrate through your skin and consequently increase blood flow. The waves act directly on your scalp and cause the nutrients needed by your hair to more easily reach your hair follicles. Nutrients reach your hair follicles and your hair follicles get regenerated.
The three main things that Foliactive Laser Comb will do for you are:
Prevent hair loss
Stimulate your hair growth
Improve capillary circulation on your scalp
Foliactive Laser Comb Features
It has three main elements that work together to aid and improve blood flow and consequently hair growth.
1. Vibration Technology
When the hair follicles on your scalp do not receive enough oxygen, your hair buds can become inactive and hinder the production of new hair cells. Massaging your scalp is a simple way to help circulation, prevent suffocation of your hair cells, and encourage new hair growth.
FLC uses a vibration technology that acts as a massager to the scalp to increase stimulation and blood flow. If you have increased blood flow, it will translate to an increase in blood movement to your scalp, allowing nutrients to reach your hair follicles.
The vibrations on Foliactive Laser Comb will cause precious oxygen blood to access the areas of the scalp with thinning or balding.
2. Laser Therapy
At the layer of skin where your hair follicle is located, specific wavelengths of light are absorbed. The lamp creates a form of cellular energy that strengthens the cell and the entire area thereby creating a perfect environment for your hair to grow.
Foliactive Laser Comb utilizes light emissions from a laser that has an electromagnetic frequency to feed the hair follicles. The laser therapy improves cell activity allowing more nutrients to get to your scalp and consequently increase growth.
3. Wireless Technology
Foliactive Laser Comb is comfortable and easy to use because of its simple control buttons. The control buttons make it easy to control the intensity of vibrations while in use.
A combination of the micro-vibrations and light rays from Foliactive Laser Comb produces a slight rise in temperature in the tissues, which in turn causes vasodilatation. Vasodilatation gives nutrients easy access to hair follicles to increase hair growth.
The remarkable thing about Foliactive Laser Comb technology is that it is a non-invasive therapy and is safe with no side effects.
How Foliactive Laser Comb Works
It is a secure device to use. Before I explain how to use it, I'll give a little background on the science behind the technology.
When your hair grows, it follows a regular 3-process cycle:
Anagen (the growth part)
Catagen (the transition period into the next cycle)
Telogen (the resting period)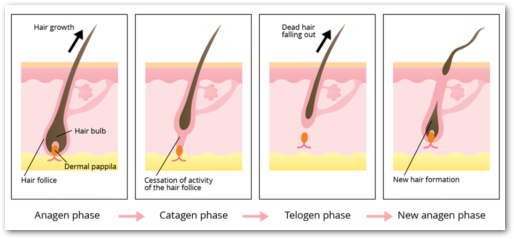 1. Anagen Phase
Almost 10-20% of your hair goes through the catagen and telogen phases at every given time. At these two phases, your hair would usually shed and hopefully grow back as new hair.
When your hair sheds at a young age, and the follicle does not restart the process and grow new hair, you will begin to go bald. This is the point where Foliactive Laser Comb comes in. It will stimulate your hair follicles to grow new hair in the anagen phase. The light emitted from the laser gives energy to your follicles and stimulates the roots of your hair so that new hair grows with robust follicles.
Sometimes your root hairs may become weak and unable to support new hair growth. This phenomenon is called miniaturization. Once a root dies, it cannot be revived ever again. Foliactive Laser Comb works to stop or reverse the process of miniaturization so that your hair generates fuller, denser, and healthier hair.
Hair grows half an inch per month during the anagen phase, which lasts for about two to eight years at a time. Foliactive Laser Comb does well to produce energy in this phase to help create healthier and thicker hair.
Cells in your hair follicles known as chromophores absorb light and convert it to energy. Regular light is not intense enough to help this process. However, the wavelength of light from Foliactive Laser Comb helps to activate chromophores that are at rest so the process of producing hair is triggered.
2. Catagen Phase
At the end of the anagen phase, your hair enters the catagen phase which lasts no more than 10 days. It is a transitional stage and right after its completion, the hair enters the next stage. The Foliactive Laser Comb
3. Telogen Phase
This phase lasts for only a few months before your hair begins to shed. Foliactive Laser Comb is designed to help your healthy hair grow back after this phase ends.
So Foliactive Laser Comb helps your hair throughout the three stages of hair growth with a focus on anagen stage. This is what makes it a perfect hair growth device.
How to Use Foliactive Laser Comb
Using the Foliactive Laser Comb is quite straightforward. With the new USB charging mode, it is even more comfortable to use.
It requires a continuous brushing motion on each part of your hair. Make sure that the combing motion is made against the natural direction of your hair growth so that the hair moves and makes way for the laser to penetrate. The best point to start from is the front portion of your hair and then carefully work your way to the back.
Follow the steps below to operate the device:
Step #1
For button 1, you will need to press once to start the treatment. The treatment set at 15-minute duration by default. In every four seconds, a 'beep' sound will be heard. To turn the 'beep' sound off, all you need to do is press button 1. Pressing the same button will turn the beep sound back on.
Step #2
If you decide you want to turn off the device before the set 15 minutes, you will have to press and hold button 1 for about 3 seconds. If however, you allow the device to run for the complete 15 minutes, it automatically goes off after the 15 minutes are up.
Step #3
Button 2 only works once the Foliactive Laser Comb is turned on. Once you turn on the device and treatment begins, you can use pin 2 to select the operating mode you would like to use. Not pressing button 2 sets the machine on default mode where it will work with no vibrations (mode 0).
Step #4
Pressing button two once sets the device on method one where it begins to vibrate. Pressing button two twice switches the device to mode two where it vibrates more intensely. When you press button three thrice, it goes back to the default mode zero where there is no vibration at all.
Who Should Use Foliactive Laser Comb
A high percentage of men begin to experience baldness from the age of 35. They aren't the only ones who have to worry about hair loss either; women have their fair share of thinning hair too.
Hair loss is caused mainly by stress, intake of certain drugs, malnutrition, and most importantly is hereditary. Whatever the cause of a hair loss, you can benefit from the use of Foliactive Laser Comb, whether you are male or female.
You're a perfect candidate for Foliactive Laser Comb use, if
Your hair is thinning out
You experience excessive shedding at a time
If you've got weak hair follicles
If your hair is losing its volume and shine
Pros
It is non-chemical and non-invasive
The vibrations are good for blood circulation in the scalp
It is FDA cleared and hence very safe
It has only very few records of minor side effects such as mild irritation or an itchy scalp
It can be used alongside other hair loss solutions like hair growth shampoos and supplements
It is easy to use with easy to follow instructions
The new USB charging design makes it easier to charge and carry the device around
Cons
It does not revive dead follicles
It requires a commitment to get good results
Not strictly following instructions will yield poor results
Results are not immediately observed, and it takes time and patience.
Where to Buy Foliactive Laser Comb
You will receive the best quality of service throughout the order process. You can order Foliactive Laser Comb by clicking here. Shipping throughout the UK is free.
A secured payment option is used for customers so that personal payment details are protected. You can pay with the use of credit/debit cards, make bank transfers or pay cash at the pay point in a store near you.
Both nationwide and international delivery is available for customers and all customers' data is safe and secure.
Foliactive Laser Comb FAQs
How do I contact customer services?
The customer support team is always available to answer questions customers may have. If you need help in making an order, have a question about services or even a problem with your order, the customer service is available to help you.
What is your security policy?
The team is committed to protecting all customers' security and privacy. The online ordering system uses technology that will never store your card information.
The team respects and fully follows the data protection act and so will never give or sell your details to anyone.
Will I get unsolicited emails after dropping my personal details with you?
You will never receive spam emails. You will be given the option of agreeing to receive newsletters and updates. If you don't want to receive emails, uncheck the box. Your personal information will never be shared with any third party.
Will my order be discreetly packaged?
Yes, your privacy will always be respected and your order will be packaged and delivered discreetly. There will be no mention of the website or what the package contained on the package.
How long before my order arrives?
The delivery option you choose determines how quickly your delivery gets to you. Faster delivery always costs more than the regular delivery option.
The tracked delivery service option may take 48 hours while the free UK delivery option takes about 15 working days. International delivery usually takes between 3 to 5 working days using UPS delivery or 5 to 10 working days using the Royal Mail International delivery option.
Conclusion
A nice thick and healthy head of hair will make you feel young and attractive. It is, therefore, worth investing in.
Because the Foliactive laser comb is a reasonably new technology, it still has mixed reviews with several sceptics who aren't convinced on the ability of the device to repair thinning and damaged hair and promote hair growth.
Many studies show that the device works with about the same number of studies that argue that it doesn't. Using the laser comb may, however, lower your stress level and subsequently, reduce hair loss. Furthermore, the Foliactive Laser Comb review may help put things in perspective on how it works and why you should probably give it a shot.
It depends on how far you're willing to go to stop whatever hair loss problems you may have. Foliactive Laser Comb is an excellent place to start that journey to a fuller, shinier, and healthier hair.