Dandrene shampoo by DS Labs is ideal for dandruff management. The zinc and lupine protein in Dandrene shampoo UK will help you fight dandruff without getting stressed out. What else Dandrene dandruff shampoo is good at and how it can help you get rid of dandruff will be covered in this detailed Dandrene shampoo review.
So if you are sick of dandruff and itchy scalp, this is the review you shouldn't miss.
Keep reading…
What is Dandruff?
Dandruff is a skin condition that affects the scalp. It can be one of the most frustrating things to deal with. First, there is this constant itching that's so uncomfortable and can be borderline unbearable. Then there is the embarrassment of having it rain flakes literally every time you move your head. And if you think I'm exaggerating, I assure you that I am not. The struggle is real.
Some people assume that dandruff is caused by poor hygiene. Naturally, the people who assume this are people who have never had dandruff in their life. Next time someone tries to tell you that, congratulate them for winning the lifetime award for the neatest person in the universe.
Now, let's get into what really causes dandruff.
Causes of Dandruff
There are multiple causes of dandruff:
Yeast
Dandruff is primarily caused by a yeast called malassezia globose. It is a fungus in your scalp. Its presence causes an inflammation which results in the over-production of skin cells. It is said that for people without dandruff, it usually takes around 30 days for their skin cells to mature and shed. However, for people with dandruff, this happens between 2-7 days.
In other words, your cells will be shedding a lot faster than they normally should. The build-up of dead cells causes dandruff.
Oily and Irritated Skin
This causes a condition known as seborrheic dermatitis which is basically dandruff on steroids. As in dandruff along with its cousins and neighbours. Seborrheic dermatitis is differentiated by large silvery scales on the scalp which can leave the scalp sore when you scratch it.
Contact Dermatitis
Sometimes the ingredients in certain products can irritate your scalp and trigger an allergic reaction which makes your scalp itchy and sore. If you find that you suddenly got dandruff after you started using a new hair product, it might be the reason.
Getting rid of dandruff can be challenging because it's often difficult figuring out what to use. So if you've been looking for a product to effectively treat your dandruff, try Dandrene dandruff shampoo.
The Dandrene shampoo is manufactured by DS Labs, the makers of Revita shampoo. Now, let's find out if this product is worth your coins.
What is Dandrene Shampoo?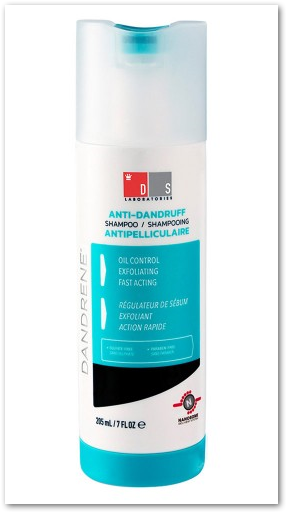 The Dandrene shampoo is a revolutionary product designed to stop itching, soothe inflammation, and cure dandruff along with other scalp issues like seborrheic dermatitis. It also nourishes the hair and scalp with amino acids and vitamins which improve the look and feel of your hair.
It works to remove dandruff in three ways:
It has an anti-fungal technology that stops the growth of the fungi that causes dandruff
It regulates sebum production on the scalp which nourishes the fungi
It supplies the nutrients necessary to make the hair and scalp healthy again.
The manufacturers advertise the shampoo with a complimentary product, the anti-dandruff conditioner. But we all know that when it comes to dandruff, the shampoos do all or most of the work so I'll be sticking with that for this review.
There are tons of anti-dandruff shampoos in the market so what makes Dandrene shampoo UK any different from the rest?
Let's see…
Dandrene Shampoo Key Ingredients
Before you decide on whether to take this one seriously, let's take a look at the ingredients to see what makes the Dandrene shampoo special.
Pyrithione Zinc
It is a popular ingredient found in most anti-dandruff shampoos like Head & Shoulders and Selsun Blue. It is said to be the world's most effective anti-dandruff ingredient and this is probably due to its fungistatic and bacteriostatic properties which make it an effective treatment against not just dandruff but also seborrheic dermatitis.
It works by increasing the cellular levels of copper and breaking down iron-sulphur clusters of proteins which promote fungal growth.
Ketoconazole
This is another ingredient present in a lot of anti-dandruff products. It is an anti-fungal agent which is also effective as a hair growth stimulant. It controls the over-production of testosterone which could suppress hair growth. It also reduces irritation on the scalp and regulates the production of sebum which could cause dandruff.
Hydrolyzed Lupine Protein
Hydrolysed protein is gotten from the seeds of the lupine plant. It has a high amount of proteins and contain a whopping 35-45% of all the essential amino acids. It moisturizes the scalp and supports healthy hair growth. Also, it has anti-static, rejuvenating and conditioning properties which make it a great addition to hair and scalp treatments.
Ursolic Acid
Ursolic acid also known as urson, or prunol is found in a large number of fruits and medicinal herbs like in the peels of apples, pears, prunes as well as spices like rosemary and thyme. It has anti-inflammatory and antimicrobial properties which make it useful in the treatment of dandruff and it also promotes hair growth by stimulating blood circulation in the scalp.
Glycolic Acid
This is a popular ingredient in skincare products which serves as a chemical exfoliant. However, research has shown that it also has many benefits for hair care. Here are some of them:
Helps the hair withstand heat treatments: products containing glycolic acid delivers a penetrating moisturizing effect that makes the hair more elastic and less prone to heat damage.
Improves the texture of the hair: Glycolic acid makes the hair feel softer, smoother, conditioned and more manageable.
Moisturizes and exfoliates the scalp: What glycolic acid does for the skin it also does for the scalp. Its ability to exfoliate the scalp results in less flaking and this makes it a great anti-dandruff treatment.
Emu Oil
Emu oil is high in essential fatty acids which penetrates into the scalp to revitalize it and protect against hair loss. It is also beneficial to the hair and scalp in the following ways:
It has anti-inflammatory properties
It is non-comedogenic which simply means it won't clog your pores
It can help to fight against bacterial organisms, fungus and other scalp infections which could hinder hair growth.
Pomegranate Peel Extract
Pomegranate peel extracts is rich in punicic acid which strengthens the hair follicles, boost blood circulation in the scalp, and promotes growth. Because of this it has been used as a treatment to combat hair loss. Also, it's great for scalp massages due to its moisturizing properties which also make it useful as an anti-dandruff treatment.
Salvia Sclarea Extract
This is an essential oil also known as clary sage which is native to most of Europe and Asia. It has antiseptic, astringent, and anti-bacterial properties which fight dandruff. Here are its other benefits:
Reduces excess oil in the scalp
Naturally conditions and strengthens the hair strands.
Stimulates the hair follicles and increases blood flow to the scalp, promoting growth.
Conditions the scalp
Tioxolone
This is an organic compound that's a great treatment for oily scalps as it regulates the secretion of the sebaceous gland. It also has sanitising and antibacterial qualities that can prevent and cure seborrhoea.
Hexamidine Diisethionate
Hexamidine Diisethionate is an anti-microbial agent contained in anti-dandruff products. It is a powerful emollient that's tough on dandruff flakes.
Shikimic Acid
Shikimic acid can increase blood flow to the scalp which promotes hair growth.
Dandrene Shampoo Reviews
The ingredients in the Dandrene shampoo show that the DS Labs did its best to create one of the best antidandruff shampoos in the UK. But before you get too excited, let's take a look at some Dandrene shampoo reviews to see what people who've used it think.
Out of 20 people who have reviewed Dandrene shampoo, 11 gave it 5-stars, 8 gave it 4- stars, and only one customer gave it a 3 star.

This shows that customers are extremely happy with the results and the shampoo did work for the majority of the people who have used it.
Most users reported a decline in their symptoms within the first week as well as an improvement in the feel of their hair. What they termed remarkable was the fact that it was able to completely remove their flakes and cure the seborrheic dermatitis without drying out their hair or leaving a residue like other anti-dandruff products.
Side Effects
The Dandrene dandruff shampoo is safe to use and have no known side effects. That being said, I'll advise that you look at the ingredients carefully and steer clear if you're allergic to any of the ingredients.
Pros
Cleanses the hair and scalp gently but thoroughly
Calms and soothes irritated, inflamed scalp almost instantly
Provides relief for itchy scalps and dandruff
Removes odour caused by fungi associated with seborrheic dermatitis
Reduces excess oil on the scalp by balancing sebum production
Naturally exfoliates the scalp
Effective against other scalp conditions like psoriasis and seborrheic dermatitis
It has some ingredients that can also stimulate hair growth
Safe for keratin treated hair
Sulphate (SLS) and phthalates free
Paraben free
Cruelty free
Cons
It is pricey
Does not lather so much so you might feel the need to use more of it than is necessary
Needs to be used frequently to see results
All that washing could dry out your hair and cause breakage if you're not conditioning adequately.
How to Use Dandrene Shampoo for Best Results
Apply shampoo to wet hair and scalp and massage gently. Leave it for about 3 minutes and then rinse out thoroughly. Please do not scrub your scalp. Some people seem to think that they need to scrub their scalp vigorously to rid it of dandruff, you don't.
You're not going to cure your dandruff by pulling it by its hair and dragging it out of your scalp. The only thing that's going to do is give you a sore, irritated scalp. So please resist the urge. For best results it's recommended that you wash with the Dandrene shampoo about 4 to 5 times a week and then follow up with the anti-dandruff conditioner.
Anti-dandruff conditioners on their own don't do much but when used together with a complementing shampoo, it can maximise the benefits. The conditioner contains most of the dandruff fighting ingredients the shampoo has but with added ingredients specifically to protect against dryness and prevent the loss of transepidermal water.
Who Should Use Dandrene Dandruff Shampoo
The Dandrene shampoo by DS Laboratories is designed to work for both men and women of all ages and it is suitable for all hair types.
Anyone with a dry itchy scalp
Anyone with mild to severe cases of dandruff
Anyone who experiences excess greasiness on their scalp
Anyone with seborrheic dermatitis, scalp psoriasis and other scalp conditions caused by fungi or bacteria.
Final Thoughts
If you had thrown in the towel earlier in your search of a product to get rid of your dandruff, I think it might be time to pick up that towel as you might be needing it. Because with the Dandrene shampoo, your hair wash days are about to be more fulfilling.
It's a powerhouse product packed full with ingredients like leading fungicides, potent plant extracts as well as amino acids to strengthen your hair and nourish your scalp. Not only that, it features DS Lab's Nanosome Delivery System which ensures the continuous release of active ingredients hours after you've washed your hair for longer lasting results.
All of this makes this product an effective clinically proven treatment guaranteed to send your dandruff or seborrheic dermatitis running into the abyss.