Looking for ways to strengthen and nourish your fine or weak hair? Revita conditioner is what you need. Revita is a thickening conditioner as it helps to strengthen weak hair and thicken thinning hair by depositing the required moisture, oils, minerals, and vitamins.
In this Revita conditioner review, I will share all the ins and outs of this conditioner, how it can help you, where to buy it, its key features, who should use it, how to use it, and much more.
Revita Conditioner Overview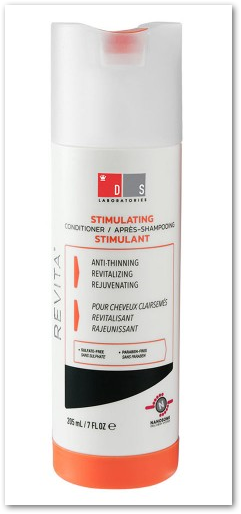 For healthy, lustrous, and shiny hair, you need to use quality hair conditioner regularly. Revita hair conditioner helps you retain the moisture in your hair as well as essential oil so that your hair can look silky, smooth and healthy.
Most people use only shampoo, but what they don't know is that hair conditioner is also necessary for beautiful hair. DS Laboratories Revita conditioner is one of the must-have hair products in the market today.
Nothing makes you look good like beautiful hair. Hair attractiveness is one of the things that grab peoples' attention. With Revita conditioner not only will you look attractive and classic but stylish too. Even if your hair is fine and the roots are oily, you will still need hair conditioner to nourish your hair, keep it smooth and healthy-looking. This is where the Revita conditioner comes in.
Revita conditioner has been in the market for years. This conditioner is perfect for people who would like to nourish and strength their hair. A quality conditioner should be able to reduce brittleness, repair hair damage, hydrate hair, and keep it smooth, soft, and silky. Luckily, Revita contains the necessary ingredients for such tasks.
Revita contains key moisturizing ingredients like water, glycerin, alcohols, cetearyl alcohol, and alcohol denat. It also contains milk protein, amodimethicone, propylene glycol, cetrimonium chloride, polyquaternium-67, and other key hair conditioner ingredients.
Revita conditioner is very easy to apply. You just have to gently massage it on your wet scalp and leave it for two minutes, then rinse thoroughly. Just as its name, hair conditioner conditions your hair follicles.
Key Features
Here is an overview of the key DS Laboratories Revita conditioner:
Moisturizing
Revita conditioner is one of the best moisturizing conditioners as it comes with notable moisturizing ingredients such as water, glycerin, alcohols, cetearyl alcohol, and alcohol denat, among others.
Deep Conditioner
Revita is a good deep conditioner as it contains a significant amount of milk protein and amino acid. The protein is absorbed into the hair and cuticle to nourish, strength the hair and scalp. One of the cons of using protein is that it can make your hair hard and brittle, thus oils and fatty acids have been added to rectify that.
Acidifying
Revita contains cetrimonium chloride and citric acid for acidifying purposes. With this acidifying conditioner, you will get the silky, shiny hair of your dreams. The acidifying ingredients help to restore and balance your hair to its natural pH level. The ingredients help to hydrate the cuticle.
Detangling Effect
The conditioner comes with several ingredients for tangled hair. These ingredients work by minimizing hair friction when combing. Some of the ingredients used for detangling and leave-in conditioning purposes include amodimethicone, propylene glycol, glycerin, cetrimonium chloride, polyquaternium-67.
Improves Hair Appearance
Hair attractiveness compliments our overall appearance. In fact, beautiful hair plays a big role in improving our appearance. Hair can make you look classic and stylish! Some people can determine just what kind of a person you are by your hair appearance. Beautiful hair gives you a sense of confidence. Revita conditioner helps to improve your hair appearance.
Perfect for Thinning and Weak Hair
If your hair is falling out, droopy or thin, we can say that you have weak hair. Extreme dryness, excessive oiliness, and split ends are some of the signs that your hair is weak. Thin or weak hair gives a disappointing look.
Gone are days there was little one can do about thin or weak hair. Would you like your hair to look healthy, strong, silky, and beautiful? All you need is a good hair conditioner like a Revita hair conditioner. Revita helps to strengthen your hair.
Even if your hair looks fine, you will still need this conditioner to keep it looking good and healthy.
Nanosome Technology
Revita conditioner features the latest Nanosome technology by DS Labs that helps to transport key botanicals, ingredients, and proteins.
Key Ingredients
When it comes to hair products such as shampoo, conditioners, straighteners and relaxers, sprays, rinses, among others, it is important to check the ingredients. Does the ingredients used offer what you are looking for? What are the side effects?
If you are looking for a good hair conditioner for your thinning or weak hair, Revita will do the job. Revita conditioner comes with numerous ingredients that help to control the behaviour and properties of your hair so that you can maintain it in a desirable and controlled manner.
Milk Protein
Milk protein comes with a complete and high amino acid content, thus making it one of the nutrients rich in protein. If you check most of the hair products out here, they contain milk protein.
Why milk protein? How does it benefit your hair? The protective properties and anti-irritant offered by milk protein are unmatched by any other nutrient. Milk protein condition is recommendable for weak or thinning hair. This ingredient is what makes Revita conditioner perfect for your thinning hair.
Caffeine
Who wouldn't want their hair to be long and strong? Caffeine hair products are known for promoting hair growth. But how does caffeine promote hair growth? Is it good for your hair? Caffeine increases the production of 'ATP' the form of energy that promotes hair growth.
Caffeine strengths the hair roots and encourages the growth of hair follicles. It does so by increasing the blood circulation to the scalp. Thanks to the caffeine, your hair gets stronger, healthier and faster. This is one of the ingredients that make Revita conditioner good for your hair.
Shea Butter Extract
Shea butter comes with moisturizing and anti-inflammatory effects. Nothing can be more moisturizing for your hair and scalp like Shea butter. The Shea butter ingredient also helps to reduce scalp irritation. This ingredient makes Revita conditioner perfect for overall hair health.
Aloe Barbadensis Leaf Extract
Not only does aloe extract helps to promote hair growth, but it also comes with moisturizing enzymes. It also helps to keep the scalp dandruff and bacteria-free.
Zea Mays Starch
Zea mays starch is good for your hair growth. It provides hair-conditioning agents.
Glycerin
Many hair products contain glycerin. DS Laboratories Revita conditioner is one of those products. Why glycerin is a must-have hair conditioner ingredient?
Glycerin is a deep hair conditioner. Glycerin moisturizes the hair and scalp layer. Are you struggling with dry hair and scalp? Then, Revita hair conditioner will be perfect for your hair. It also eliminates dandruff.
If you have lifeless and frizzy hair that is rough, glycerin will nourish your hair and help to soften it. Slip ends are a common hair problem faced mostly by people with long hair. Revita conditioner is here to rectify that. Glycerin helps to strengthen your hair and prevents the formation of split ends.
Malus Domestica Fruit Cell Culture Extract
This ingredient makes Revita conditioner good for your hair and scalp. The extract is rich in epigenetic factors that help to keep the scalp free of dandruff. The ingredient helps to keep your hair nourished, healthy, and strong.
Panax Ginseng Root Extract
Ginseng extract promotes hair growth. Revita conditioner contains ginseng extract making it good for thinning hair. Not only does this ingredient encourages hair growth, but also stimulates the scalp.
Biotinoyl Tripeptide-1
This ingredient is often used as a hair loss treatment. Biotinoyl Tripeptide-1 strengthens and thickens your hair. It's also good for your scalp as it stimulates it and eliminates dandruff.
Cetearyl Alcohol
When it comes to hair conditioners, cetearyl alcohol is one of the most commonly used fatty alcohols. What is the use of fatty alcohols in hair conditioning? You will need fatty alcohols to condition and soften your hair. Revita conditioner contains cetearyl alcohol for health softening and smoothening purposes. The alcohol also helps to detangle your hair.
Hydrolyzed Corn Starch
This is a natural ingredient extracted from corn starch. It helps to moisturize and condition your hair. It also helps in the absorption of other ingredients into your hair.
Hydrolyzed Keratin
This protein pigment replaces the missing keratin along the hair shaft, which results in shiny, soft, and smooth hair. This is a hydrolyzed protein. Why is protein hydrolyzed?
Protein in the hair can be damaged by frequent chemical treatments, heat styling, and harsh cleansers, which results in excessive hair shedding. To avoid such problems, the hydrolyzed protein is used. Hydrolyzed keratin helps to improve moisture retention, hair smoothness, shine, and softness.
Citric Acid
The citric acid is added for acidifying purpose. The acid helps to restore and balance the natural pH of your hair. It also helps to stabilize the pH of Revita conditioner. Citric acid softens your hair and makes it less frizzy. The acid also smooths your hair cuticle.
Water
Water is the moisture needed for your hair to stay moisturized. Without water, the conditioner can't work. Water is necessary for hair conditioning that is why Revita conditioner has included it. Water also helps in dissolving the active ingredients in the Revita conditioner.
Hydrolyzed Lupine Protein
Lupine protein is rich in amino acids, which are essential for hair nourishment and health. This ingredient offers great rejuvenating, conditioning, and anti-static properties.
Propylene Glycol
This ingredient enhances the penetration of nutrients and other nutrients into the hair cuticle. It is also helping in moisture absorption! Propylene glycol makes the hair soft and easy to manage.
Others Ingredients
Other ingredients include: Amodimethicone, benentrimonium chloride, cetyl esters, keratin, sodium starch octenylsuccinate, hydrolyzed corn starch octenylsuccinate, hydrolyzed corn starch, beeswax, and silica.
How to Use Revita Conditioner
What is the proper way to use ds laboratories Revita conditioner? It comes with label instructions on how to use it for the desired result. However, there are some general rules on how to use conditioner such as use the correct amount, don't apply it to sopping wet hair, apply it on the hair ends only and distribute evenly, allow it to absorb, and lastly rinse thoroughly.
How do you apply Revita conditioner? Wash your hair with shampoo (Revita shampoo is recommended). With a gentle massage, apply Revita conditioner to wet scalp. Leave it for about 2 minutes and rinse thoroughly. For desirable results, apply the conditioner at least 5 times a week.
Pros
Stimulates scalp and moisturizes dry hair
Softens your hair
Detangles your hair
Nourishes and strengthens your hair
Promotes hair growth
Perfect for thinning and weak hair
Cons
Some users have complained that the Revita conditioner caused hair loss after using it for months.
Conclusion
Most people would give anything for fuller, healthier and thicker hair. While some people are lucky to have thick hair, others are stuck with fine, thin hair or baby-fine hair strands. Even though genetics play a big role in having thin or fine hair, other things may make your hair thin or weak. Fortunately, with Revita conditioner, some of the things that cause your hair to thin out can be rectified.
Thin and weak hair are devastating conditions. The weak or thin hair needs approved hair conditioner to stimulate its growth. Should you use Revita hair conditioner to condition your hair? Revita conditioner treats your hair with oils, minerals, vitamins, and nutrients. By adding Revita conditioner to your hair care routine, you will notice the improved feel and look of your hair. Not only does this conditioner makes styling your hair easier but it also leaves a great smell.
While Revita shampoo does a remarkable job of cleaning your hair, it doesn't help to moisturize your hair, often it leaves your hair feeling and looking dry, a bit scraggly, and slip. That is why DS laboratories Revita conditioner is important as it locks in moisture and nutrients. In this Revita conditioner review, the pros outweigh the cons. Customers are happy with their purchase. Thus, we can conclude it is a great conditioner for thinning, fine, or weak hair.