Do you want to look and feel good? Sure, you do, everyone does. But this is not possible when you're experiencing hair loss and thinning hair. Thanks to Watermans Grow Me Shampoo that regrow your hair and put an end to hair loss. Find out everything about this life-saving hair loss shampoo in this Watermans Grow Me Shampoo review.
Let me give you a quick overview of what makes your hair thin?
There are numerous reasons for thinning hair and hair loss, but the most common is related to your genes (known as androgenetic alopecia). Age is another factor. Naturally, you lose 50-80 hair strands daily and the same hair follicles will continue to regrow those lost hairs. However, aging causes these follicles to stop working.
Unfortunately, you can't alter your genes and you can't stop yourself from aging, however, you can stop hair loss if you happen to use the right hair loss shampoo.
Irrespective of what is the cause of hair loss, Watermans Grow Me Shampoo is your best bet. The review below will explain why…
What is Watermans Grow Me Shampoo?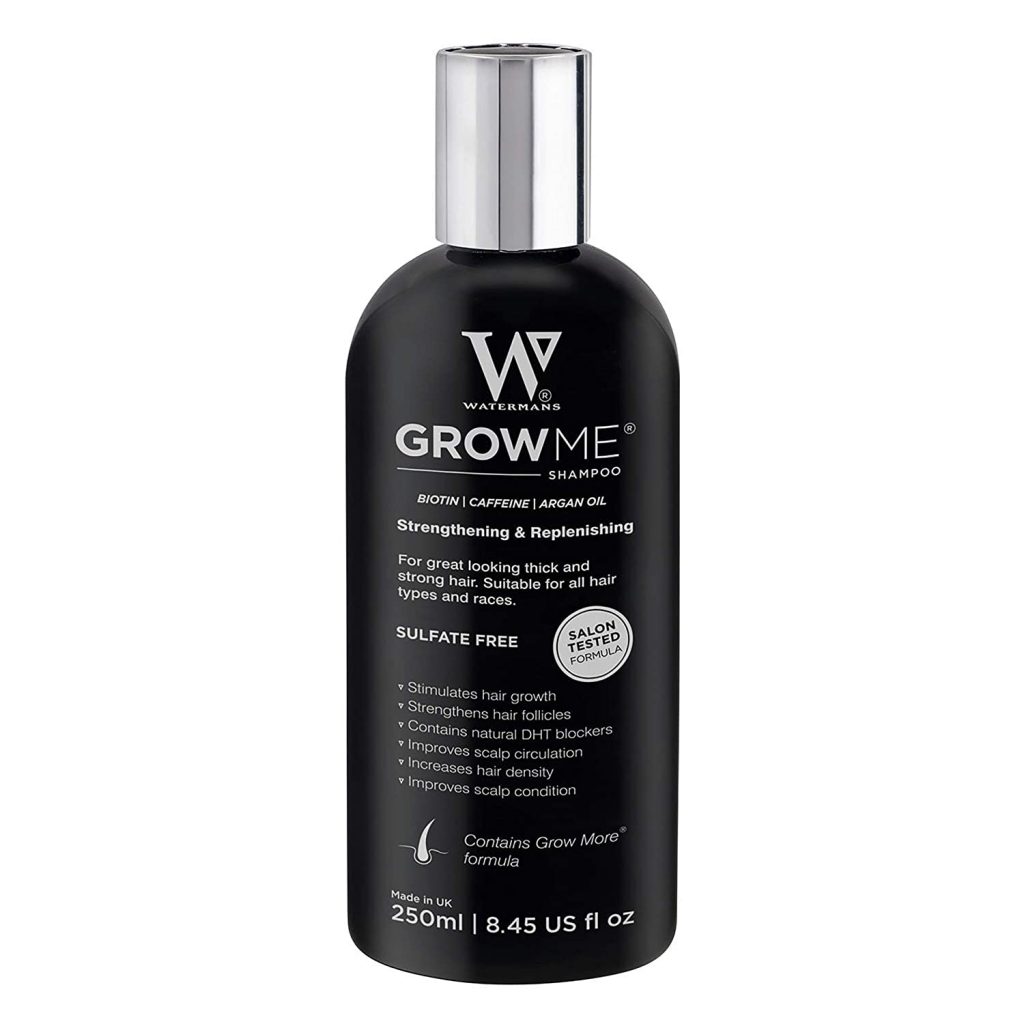 It is a hair growth shampoo that promises to grow your hair with its powerful blend of healthy natural ingredients. It's Grow More formula with a mix of natural ancient and modern clinically proven ingredients to encourage healthy hair growth that helps combat hair problems such as hair loss and hair thinning.
Hair loss (in men and women) is caused by the presence of DHT in hair follicles. DHT is a hormone that makes your hair thin and leads to hair fall (or baldness). Fortunately, the clinically proven hydrolysed lupine protein in the Watermans shampoo is a formidable DHT fighter.
It'll revitalise your dull and dry hair with its powerful hair growth formula.
Grow Me Shampoo Features
The key features of the Watermans Grow Me Shampoo include:
It strengthens and replenishes your hair
It regrows hair quickly and the new hair is strong and thick
It strengthens hair follicles by fulfilling their nutrient needs
Its natural DHT blockers help with hair regrowth
It increases hair density too
It promotes a healthier scalp with deep cleaning.
Watermans Shampoo Ingredients
Watermans GrowMe Shampoo contains natural ingredients including biotin, caffeine, argan oil, rosemary leaf extract, allantoin, vitamin B3, and hydrolyzed lupin protein. All these ingredients have a regenerating effect on your skin.
Argan oil is rich in beneficial nutrients including fatty acids and vitamin E that make your hair soft, silkier, and shinier.
Caffeine stimulates blood circulation in your scalp and acts as a DHT blocker. The rosemary leaf extract is good for its soothing qualities. It is capable of cleansing and purifying your skin from unnecessary accumulations.
It also contains vitamins and antioxidants such as H, B7, B3, B6, C, and E that have beneficial and protective effects on the scalp and they make your hair strong.
Pros
Here is what I like the most about the Watermans Grow Me Shampoo:
It has beneficial and protective effects on your scalp, improve hair growth, and strengthen your hair
It contains natural DHT blockers
It is sulfate and paraben free
Suitable for all hair types
The formula has been tested professionally in salons and it does regrow hair.
Cons
Here is what I don't like about Grow Me shampoo:
It might cause irritation in eye. It is not a big deal as almost all shampoos cause irritation in eyes
It doesn't detangle hair properly
You may have to go through a few bottles to notice any improvements.
Watermans Grow Me Shampoo Reviews
It is an Amazon's Choice shampoo that has received over 2300 ratings from customers on Amazon. It has 4 stars out of 5 and 59% of customers have rated it 5-stars and 13% have rated 4-stars. The rating (out of 5) according to its features is:
Scent (4 stars)
Hair softness (4 stars)
Value for money (3.9 stars)
Style (3 stars)
Here are the top three most repeated phrases that were found in most of the customer reviews:
Hair growth
Hair loss
See a difference
It shows customers use it for hair regrowth and to get rid of hair loss and they see a difference. This is a clear indication that GrowMe shampoo really works. After all, more than 2300 people couldn't be wrong.
Watermans Grow Me Shampoo FAQs
Here are answers to the most asked questions about Watermans shampoo:
How Fast Does Watermans Shampoo Work?
It generally takes anywhere between 2-3 months to see a significant impact on your hair. However, the initial signs will be visible right away (or in a couple of weeks). It works om hair regrowth and it takes time. You can't see new hair growing from hair follicles right away. What you should do is consistently use it for at least 2 months to see the result.
Is Watermans Shampoo Any Good?
Indeed, it is. It has an effective formula with natural ingredients that are sure to work. Customer reviews show how great this shampoo is. The Watermans Grow Me shampoo has 4 out of 5 stars on Amazon and it has been reviewed by more than 2300 customers. It is a great shampoo for hair regrowth.
How Does Watermans Grow Shampoo Work?
It has biotin, argan oil, caffeine, and DHT blockers that provide your scalp and hair follicles with all the nutrients and proteins for hair growth. The ingredients make hair follicles strong, cleanse your scalp, and DHT blockers stop further hair loss. So, it first stops hair fall and hair loss and makes scalp and hair follicles strong by providing proteins. You will soon see strong and thick hair.
Conclusion
Hair loss, hair thinning, and hair fall are frustrating issues, I understand. But the good news is that there is always a solution available out there. A right product can turn the tables. In this case, it is Watermans Grow Me Shampoo. It has all the ingredients and features that will help you get rid of thin hair, hair fall, and hair loss completely. All you have to do is use it consistently.