Everybody wants hair on his or her head. It makes you exceptionally attractive. It could be embarrassing and unpleasant if you lack hair on your head.
Likewise, nobody wants hair in undesirable places. It's embarrassing and unpleasant when hair springs up recurrently all over your skin. It's damaging to one's confidence.
Everybody prefers a soft, smooth, utterly hair-free skin surface. As a result, many have turned to depilation as an indispensable part of their beauty and grooming routine. Those who desire a smooth, hairless skin may find themselves reaching for razors or waxing strips, but there is a better alternative by Skin Doctor called Skin Doctors Hair No More System.
Skin Doctors Hair No More System contains two brilliant products made with ten incredible natural ingredients, aimed to completely meet your hair-less skin need. The system contains hair growth-inhibiting spray and hair removing cream, which both work perfectly together in sublime harmony.
What is Skin Doctors Hair No More?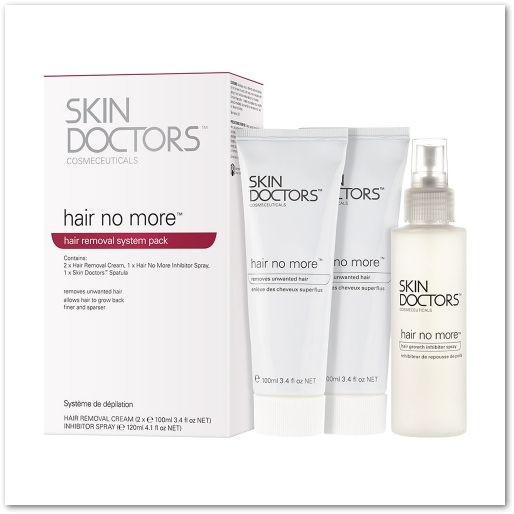 Skin Doctors Hair No More System is a simple and quick treatment for eliminating hair from unpleasant places and for dramatically reducing hair regrowth. It painlessly and quickly removes unsightly hair from the skin – facial hair, body hair, etc. – and slows down hair regrowth.
The system pack contains an easy to use scientifically-developed Skin Doctors Hair No More inhibitor spray and hair removal cream – both products work together to achieve the desired result of no more hair on undesired places.
Skin Doctors Hair No More System:
Focuses on your continuous depilation needs.
Is free from all parabens.
Has a fresh, energising minty aroma.
Contains witch hazel, willow bark, and soy.
Is super quick and simple to apply.
Is very powerful yet kind to your skin.
Can be used to remove facial hair or body hair.
Can be used by men and women alike.
Is incredibly quick and simple to use.
Skin Doctors Hair No More inhibitor spray has a light texture. Once you spray it on the desired part, it is swiftly absorbed by your skin, you will be surprised at how incredibly swift, easy and convenient it can be!
The products are ideally sealed for the ultimate in cleanliness and hygiene, the spray makes it almost impossible to waste or fail to use enough. You can perfectly combine it with your current routine, and over time you could find it to be the depilation answer you've been looking for.
How Skin Doctors Hair No More Works
Skin Doctors Hair No More cream dissolves the proteins that make up your hair, thus melting your hair away. Skin Doctors Hair No More inhibitor spray penetrates your skin pores and saturates your hair bulb. This action starves your hair at the root and prevents the germination of hair cells.
Why don't you achieve smoother, softer, and hairless skin today with the Skin Doctors Hair No More System? A proven long-term solution for unsightly hair removal.
The products are highly developed to both eliminate unwanted hair and inhibit hair regrowth over time. Skin Doctors Hair No More System is fortified with natural herb extracts that effectively and gently reduce hair regrowth, the formula also saturates the hair follicles and strip the hair of its nutrients, thus resulting in sparser, finer regrowth.
You only need to apply the refreshingly scented fluid spray or cream to your skin in a thin even layer to enjoy their benefits.
Why Use Skin Doctors Hair No More
Normally, we all have hair on our skin but in little quantity. Body hair is necessary for insulation and ventilation control. However, an excess of body hair, especially in undesirable parts, is undesirable.
Excess hair can appear on the following body parts – legs, arms, armpits, bikini area, face, sideburns, eyebrows, chin, upper lip.
According to statistics, excessive body hair in unusual areas (also known as hirsutism) affects about 5-10% of men and women of various ages. Excessive hair growth may occur due to genetics, hormonal changes, skincare product, etc.
Bothered people have turned to shaving and using tweezers on their faces from time to time to eliminate body hair and look gorgeous. However, it is not always necessary for you to use such painful methods of body hair removal, not when you have other non-invasive, painless methods of eliminating unwanted body hair.
Skin Doctors Hair No More System is one such easy, convenient, and non-invasive body hair removal products. Like I said before, body hair is necessary. So, the product does not permanently remove your body hair and prevent its replacement.
Instead, the Skin Doctors hair no more hair cream removes the excess hair while the Skin Doctors Hair No More inhibitor spray is a hair growth inhibitor that slows down the regrowth of your body hair, which was removed by the cream.
This process results in a sparser, lighter, and finer hair on your body.
In a nutshell, the Skin Doctors hair no more hair cream is a depilator, which is designed to remove excess or unwanted hair. Skin Doctors Hair No More inhibitor spray is a hair growth inhibitor, designed to slow down hair regrowth.
Note that your body hair growth follows three basic phases – Anagen (the growing phase), Catagen (the transitional phase), and Telogen (the resting phase).
At every point in time, your body hair is always at varying growth phases. However, hair growth inhibitor is only effective on body hairs at the Anagen phase.
For this reason, you would be required to use the hair growth inhibitors consistently over a period to achieve the desired positive results. I would also advise that you use the hair removal cream before the application of the growth inhibitor.
Skin Doctors Hair No More Ingredients
The active ingredients in Skin Doctors Hair No More System include:
Pilinhib Veg
Urea
Salicylic acid
Hamamelis virginiana
Pilinhib Veg
It is an active botanical substance and can also be produced synthetically. The ingredient is well known to reduce the diameter and length of the hair strand and slow down hair growth. Urea attracts moisture to the skin and reduces dehydration and water loss through the epidermis.
Urea
It is medically proven to increase the skin's ability to absorb some hair care ingredients so that the ingredients can easily penetrate the epidermis.
Salicylic Acid
Salicylic acid, originally extracted from the bark of the willow tree, but can now be produced synthetically, can prevent pores in the skin from clogging by slowing down the shedding of cells inside hair follicles. Salicylic acid also has a slight antiseptic effect and helps in breaking down keratin – a protein found in hair.
Hamamelis Virginiana
Hamamelis virginiana (witch hazel) leaf extract has unique healing properties. It helps in healing damaged skins. It also gives the skin a smooth and refreshing feeling after hair removal.
Other ingredients in Skin Doctors Hair No More System include Hamamelis, arnica, hypericum, menthol, and soy, which all have softening, healing, soothing, and astringent properties.
The products are based on naturally derived botanicals ingredients to give you a kind-to-skin and natural method. The product perfectly creates an equilibrium between exfoliation and hydration.
Skin Doctors Hair No More nourishes your skin. It aims at soothing, hydrating, and deeply nourishing your skin. There is a tendency that during depilation your skin may be stripped of its crucial oils.
However, the products contain several other expertly selected ingredients that quickly restores your hair oil like urea, soy protein, castor oil, etc. These ingredients are well-known for their ability to strongly instil moisture into your skin.
Skin Doctors Hair No More also revitalise your skin. The products do not focus on depilation alone but ensure that your hair follicles are addressed during the depilation process. The products contain exfoliating compounds that eliminate dead skin and enable hair volume to be reduced easily.
Skin Doctors Hair No More achieve this due to the potent salicylic acid it contains blended with astringent witch hazel, refreshing menthol, and toning willow bark.
Skin Doctors Hair No More is made of premium, well-known, and inventive ingredients. None of these ingredients are known to have any side effects whatsoever. Nevertheless, I'd recommend you carefully read all the full ingredients should in case you might have personal allergy for any of them. More so, the products are for external use only.
Who Should Use Skin Doctors Hair No More?
Skin Doctors hair no more can be used by both men and women who want to get rid of excess hair on their skin. The product is also suitable for any type of skin and hair, although if your hair is thick and dense, it may take a little while to achieve noticeable results.
This product can also be used for facial hair and on all parts of the body except your head…lol.
How to Use Skin Doctors Hair No More Cream & Spray
Like I stated above, Skin Doctors Hair No More boots is designed to comfortably eliminate undesired body hair and help to discourage the reappearance of eliminated undesired body hair. To use the potent Skin Doctors Hair No More hair cream, coat the concerned body area evenly with a thin layer of the cream.
Do not rub but allow it to work for 5 minutes (for facial hair, 8 minutes for hair on other body parts). Afterward, rinse the cream off the area with cool water.
I would suggest that you patch-test a small amount of the hair cream on the area to be treated first for about 24 hours. If you feel no irritation, then you can commence with full application.
You may also choose to use the Skin Doctors Hair No More inhibitor spray immediately after rinsing off the hair cream but ensure that your skin has dried.
Spray your skin with a sheer mist of the product, and gently massage in until you have achieved a complete absorption. If you want to use the product on sensitive body parts like near the eyes, do not spray the area directly but apply the spray onto a cotton bud before applying it to the areas.
For an effective depilation result, I recommend that you use the hair cream for hair removal before applying the spray for hair growth inhibition. More so, apply the spray independently of the cream for maximum benefits – daily for one week followed by twice every week.
Once you are satisfied with the depilation result, you will still need to use the spray about 2 to 4 times weekly for maintenance.
Advice and Guidance
Skin Doctors Hair No More boots are made using inventive, premium, and well-known ingredients that have no known side effects whatsoever. However, I would recommend that you read through the list of full ingredients carefully to prevent any individual allergens. Remember, no skin is alike, and the product may react differently.
The product is also intended for external use only. Please avoid the use of soap, perfumes, antiperspirants, or other astringent lotions after using the hair cream for about 24 hours.
Skin Doctors Hair No More Reviews
Let's see what real customers are saying about their experience with the Skin Doctors Hair No More.
I've been using skin doctor no more hair for a while now and it really does help to slow the hair growth down, in some places the hair is no longer visible. I really recommend this product. Thank you!

Stacey
Brilliant, bought this recently and was sceptical as to whether it would really work but have been pleasantly surprised. Used each night a month and hair growth is significantly reduced and new growth is much finer.

Lindsay
An excellent hair inhibitor product. I used this the day after my waxing, on dry skin straight after my shower. OMG it really worked. Side effect may include sun exposure problem on arms but I had no problems.

Harpreet
Skin Doctors Hair No More FAQs
Have any questions about Skin Doctors Hair No More? Here are your major questions answered.
How long will it take to see results?
The depilation results may vary in period depending on each individual – their hair and skin type, the amount and thickness of their hair, their hair growth patterns, and how often he or she uses the product.
How it Works?
Just like its name, Skin Doctors Hair No More hair removal cream removes undesired body hair from any body part while Skin Doctors Hair No More inhibitor spray is designed to slow hair growth after hair removal.
Are results permanent?
No, you will need to continue to use the product to maintain the depilation results.
Can the product be used anywhere?
Yes, it can be used on any body part – face or body – anywhere you want to remove unwanted hair. To use on sensitive areas like near eyes, spray on a cotton bud or fingertip and then carefully massage into the area.
Does it cause ingrown hairs?
No, it doesn't cause ingrown hair instead it may help prevent them
Can I use it with moisturizers and cosmetics?
Yes, you can. However, apply Skin Doctors hair no more first and allow it to be fully absorbed and dry before applying any other skin product – moisturizers, make-up, etc.
Conclusion
I can proudly tell you that Skin Doctors Hair No More boots work and produced the desired effect for some individuals, but I am unable to firmly guarantee that these products will work for you.
Nevertheless, Skin Doctors Hair No More System is relatively inexpensive at around just £16.95, purchase it here and try it out.