Do you see peculiar bumps on your face and rest of the body? These are not exactly pimples, but they are painful and can make you uncomfortable. These are called ingrown hair that curls and grow into your skin. Recurrent growth of ingrown hair is known as folliculitis. The only difference between a pimple and an ingrown hair is that the latter requires immediate attention. A pimple should be left alone, but the ingrown hair can get unexplainably painful.
When the hair growth is crooked or curled, it causes swelling, itching, and the infected bumps on the skin start appearing red. There is no doubt that it gets both men and women uncomfortable. That's precisely why Eco Masters ingrown hair lotion is here to save the day.
Ingrown hair can be caused by:
Presence of dead skin cells on the surface of your skin
Shaving and waxing can be the cause of creating sharp and stubborn hair.
Having excessively curly or coarse hair
The idea of removing ingrown hair may seem plausible, but it is a risky affair. There are home remedies but applying sticky oatmeal and sitting in one position for 40 minutes may be too demanding.
If you are experiencing the above-mentioned ingrown hair symptoms, then it is advisable to start using the lotion. As a wise buyer, checking the reviews is mandatory. The question is: Why should you opt for ingrown hair lotion specifically?
Here's a detailed Eco Masters ingrown hair lotion review. Let's find out the pros, cons, features, overview, and where you can buy it.
Ingrown Hair Lotion Overview
Proper exfoliation of skin has become vital. Trying out different home remedies may seem like a budgeted task, but it requires time and patience. With Eco Masters ingrown hair lotion, you can eliminate ingrown hair caused by waxing, shaving or other hair removal methods.
Keeping the skin epidermis clean of ingrown hair and reducing the possible risks of infection is necessary. The lotion gets absorbed by the skin easily and does not leave any unwanted marks.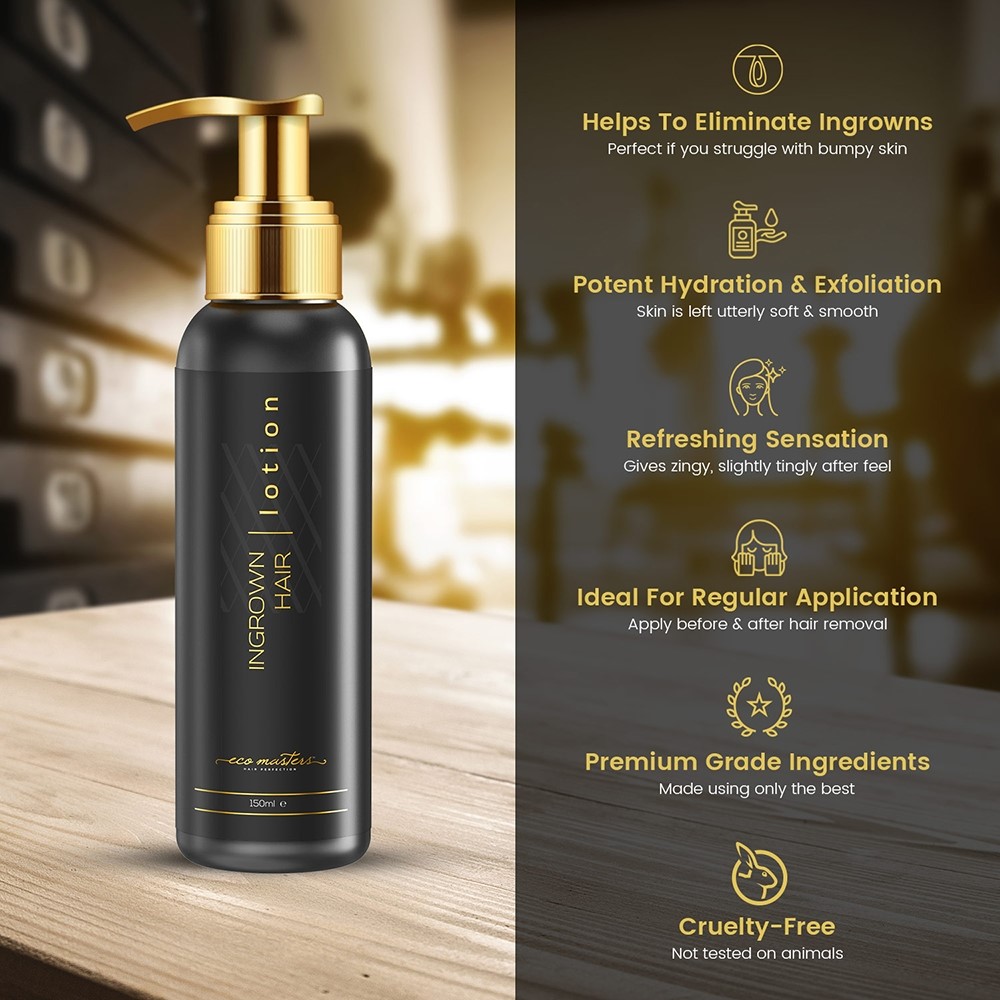 The product can be used on private parts such as the bikini line and users can apply the lotion generously on legs, underarms, face and other parts of the body. After shaving or waxing your legs, apply the lotion to get a smooth touch. Using it before the waxing and shaving process will prepare the skin for the razor or the wax strip.
Eco Masters ingrown hair lotion can be used as a skin-softening tonic and provides a refreshing feel to your skin. Exfoliating, eliminating ingrown hair, softening the body and post-wax and shaving care is taken care of with this product.
Application of the lotion is easy. Use a pad or a cotton swab and with a swiping motion, you will be able to target the affected areas. That's not all! The product is made with premium-grade ingredients and is gentle on different skin types. The core ingredients of the product are cocoa fruit and lactobacillus. It is a gluten-free lotion that can be applied daily without any harmful side effects.
Ingrown Hair Lotion Features
Here is the list of the leading ingrown hair lotion features:
Eliminates Unwanted Ingrown Hair
Picking or popping the ingrown hair can be painful. With this lotion, you can exfoliate the affected areas efficiently. Once you apply the lotion, the ingrown hair naturally grows out and springs up.
Absorbs Easily With No Residue
Application is easy with a cotton swab or a pad. The lotion absorbs into the skin and leaves no residue.
Gives a Smooth Touch
Use it before waxing/hair removal or after the process to get silky smooth skin. This eliminates the problem of curling of hair/ingrown hair. If you are using a razor, apply the lotion and it will take care of the rashes and cuts. The lotion helps in prepping the skin for any type of hair removal method. Men may experience the ingrown hair problem after shaving their beard. This can be applied to the area before or after shaving/hair removal for excellent results.
Suitable For All Skin Types
The Eco Masters Ingrown Hair lotion is suitable for all skin types. It is gentle on your skin and does not cause side effects. It is good for sensitive skin types as well!
Money Back Guarantee
The product comes with a 30-days money back guarantee. The makers of the product believe in the effectiveness of the lotion. In case you do not see any improvements in the skin, you can simply contact the efficient customer care and opt for the easy money-back guarantee.
Keeps Your Skin Bump-Free
After applying the effective lotion, you will feel refreshed and it will soften your skin. It keeps the skin bump-free and can be used by both men and women.
Ingredients
What goes into the Eco Masters ingrown hair lotion? We gathered the list of ingredients that went into the making of the lotion.
There are two core ingredients in this product: Cocoa fruit and lactobacillus
Lactobacillus is a friendly bacteria. It is most commonly found in our intestines. The ingredient is used in products that prevent or reduce eczema, vaginal infections, and ingrown hair. It has anti-inflammatory properties that are effective in reducing bumps, redness, and swelling of the skin surface.
Other useful ingredients:
Aqua
Fragrance
Decapeptite-1
Polysorbate-20
Disodium EDTA: This is a chelating agent that helps in binding the metal ions such as calcium, zinc, and sodium. It is widely used in most of the popular cosmetic products.
Benzoic Acid: It is helpful in preventing infections and shedding the dead skin cells on the surface of the skin.
Dehydroacetic Acid: This is a useful ingredient that protects cosmetics from spoilage. It kills microorganisms and also helps in preventing the reproduction and growth of these.
How to Use Ingrown Hair Lotion
Applying the lotion on your skin is an easy process. It is not messy or difficult. Simply use a cotton swab or a pad to apply the lotion on the affected area. You can apply it before waxing or any other hair removal method. After shaving/waxing, apply the lotion to get a smooth finish. Once you apply it before the hair removal method, it preps your skin for the process.
In the case of smaller areas, you can use a cotton swab. For larger areas, use a pad for easy application. Apply an even layer and let it sit on the skin for a few minutes. If you have sensitive skin, rinse it off after 10-15 minutes. You can use this product regularly before the hair removal process.
Who Should Use It
A major plus of using the Eco Masters ingrown hair lotion is that it keeps body bumps at bay! Whether it is undergoing a shaving, laser or any other hair removal process, it is important to use the lotion to keep the skin soft and bump-free.
I'd recommend this product to both men and women who are experiencing the ingrown hair issue. Even if you are having razor burns or getting sharp hair after waxing/hair removal, this lotion can be useful in smoothening the skin. It exfoliates the skin leaving it soft and bump-free.
Even men may get ingrown hair after getting their chest or leg waxed. It is possible that they are shaving the beard and the razor burn or ingrown hair could get painful. This lotion is effective in taking care of your skin pre or post waxing/hair removal. Ingrown hair is nothing but a stubborn hair that gets trapped under the skin surface.
It can be found in your bikini line area, face, underarms or any part of the body. If you are seeing bumps on your skin (that are not pimples) and they are getting red and inflamed then it is time to use the lotion. It is quite effective and will leave your skin feeling refreshed and smooth.
Pros
Suitable for all skin types
Easy application
Easily absorbs into your skin
Natural ingredients used for the creation of the product
Eco Masters is a reputed brand
Eliminates ingrown hair and soothes skin
Helps in exfoliating skin and provides relief from razor burns.
30-day money back guarantee.
Reduces the possible risks of getting the infection
Cons
Some of the existing buyers felt that the product has a high price
Ingrown Hair Lotion Reviews
People who have used ingrown hair lotion are satisfied with their decision and they seem to love it. It has received 5-star rating from customers who have used it.
Here is how Rachel shares her experience with the product:
"Being using this on my witchy poo hairs on my chin day and night excellent result. They are not coming back and I have stopped scratching my chin through irritation of the hairs growing inwardly. Well recommended."
Where to Buy Ingrown Hair Lotion
Eco Masters is a trusted brand. You can buy the ingrown hair lotion here. There are times when the sellers try to spoon-feed a product that is not original. In order to get the original product, click here.
The product comes at a discounted price and all the major credit cards are accepted. There is a myriad of delivery options as well.
Conclusion
We hope this ingrown hair lotion review helped you to make a wise decision. The bold collection of Eco Masters will help you get rid of the most common skin problem known as ingrown hair. These are painful and aesthetically, it can be painful for your eyesight as well. Who likes seeing unwanted bumps and redness on their skin?
The answer is nobody.
Why would you want to feel discomfort all through the day? After getting your bikini line waxed, you want to feel fresh and free from hair. The whole purpose of waxing is to be aesthetically pleasing, but the unwanted bumps caused by ingrown hair can put an end to your desires and dreams.
Personal hygiene and taking good care of your skin should come naturally to you. More than being physically unattractive, these bumps on the skin are painful and can cause sleepless nights. The constant itching and redness on the surface of the skin are discomforting. So, put an end to the ingrown hair problem and grab the Eco Masters ingrown hair lotion which is tailor-made for both men and women.
Don't shy away from buying the product because it is the most common problem that every man and woman face. Now you know where to buy it from and all the pros and cons. Do I recommend the product?
Absolutely yes.
You can check out the reviews, compare different products and then make an informed decision. It is your body and taking good care of your skin is a no-brainer. You have to live in this skin for a long time and so, make it count and get the best in-grown hair lotion to keep it smooth and bump-free.