Getting some hair on the pillow or comb can be normal but if these symptoms are accompanied by the weakening of the hair, and less thickness in each strand can be indicative that something is happening in your body, it can be due to multiple causes that we will describe later.
Many factors influence the weakening of the hair, both in men and women can occur either for a short period or as a definitive condition that will accompany them for the rest of their life.
Reducing their effects can be a complicated task because most of these effects are beyond the control of the person suffering from them. Once the weakness appears in the hair, it also does so in the self-esteem of the person, looking in the mirror and getting empty spaces or that the light passes through the hair strands can be a frustrating experience, and that affects the way As we feel to face the day and daily activities.
Bad hair care is a serious problem that many people suffer from since they are not aware of how to perform a proper cleaning so that there is no mistreatment in the scalp.
The products available in the market seem to be determined to show more the problem than to hide it, but the solution could be a product called KeratinMD Hair Building Fibers.
Here is a detailed KeratinMD Hair Building Fibers review that will help you decide if it is the right product for you. It covers its features, ingredients, pros, cons, where to buy it, customer reviews, verdict, and much more.
Let's get started.
What is KeratinMD Hair Building Fibers?
Hair Building Fibers is a product that is developed for people who have thin hair and contains strands of Keratin and proteins and are available in a wide variety of colours.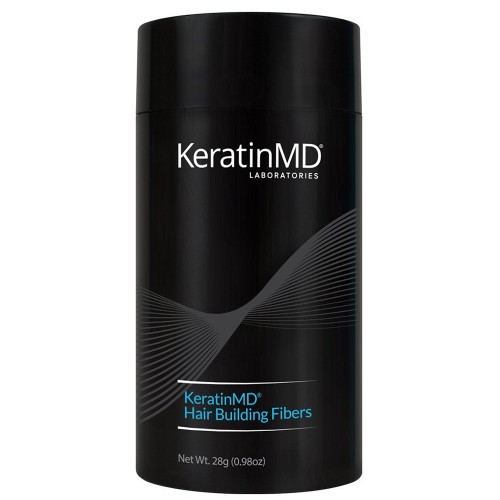 One of its advantages is that they are very easy to use; once you have combed your hair, you should spray in the area where you need more volume than usually in the crown.
The fibers work through static electricity and remain in your hair for a long time. With this product, you will look much younger and will help you regain the confidence you lost by having suffered from baldness.
It is a safe product to use, recommended by hair surgeons in addition to being beneficial for health.
You can get the look you want when you want thanks to this product, the fibers are made and designed to intertwine with existing hair, and you can wear an incredible and different look in just 40 seconds.
The colours do not stain or slip and you can easily wash your hair with shampoo.
Beyond the medical, feeding and hormonal control measures, the aesthetic part must be covered, it is time to look for and try products that can help lift our spirits and misunderstand ourselves with the new reality of hair, a product that helps strengthen the scalp, hair fiber and at the same time hide the weak and worn appearance.
Benefits of KeratinMD Hair Building Fibers Spray
This product is a solution that resolves many of the weaknesses presented in other products when talking about Hair Building Fibers the conditions change because their creators they dealt with each of this weaknesses to create an infallible product that works. Using the Hair Building Fibers spray, you will be solving any of the following aspects:
Resolve concern about thinning hair
Makes the user look fresh and natural
Nourishes hair and fibre with organic and natural Keratin, the main protein of hair and nails
It gives a boost to that sense of self-confidence that the person had lost along with the capillary strength
Keeps your scalp clean and spotless
Keeps the natural and discreet appearance
And also protects the environment and takes care of animals
Side Effects of Hair Building Fibers Spray
Although it is a natural product without contraindications, it is always recommended that you read all the specifications and do a test on a small area of ​​the scalp before using it on all the hair.
Doctors and experts recommend this product; it is considered hair makeup that has no side effects for people who use it. Rather they provide you with the ability to hide the lack of hair.
As you can see, you will not have to worry about anything; you can use KeratinMD Hair Building Fibers spray without problem as many times as you want.
Why You Should Use Hair Building Fibers?
When the loss of strength of the hair begins to be evident to everyone around us, you can suffer a severe blow to self-esteem and your confidence decreases, accentuating many of the causes that led us to lose it, be it a depression or the simple fact of aging sadness and insecurity are exacerbated creating a vicious circle that further aggravates the problem.
The first step once identified the causes is to face the problem following medical advice and taking action on our part as appropriate, but against the visible effects is the time to act also and look for alternatives that help us go out every day to the street and show your best attitude to this vicissitude.
It is time to identify and test the products that help to hide the problem in the most discreet way possible.
The first step is to buy the product that will help you hide the visible effects of hair loss or hair weakening. Applying it in a spray form will cover those spaces where hair volume is no longer visible effectively and lastingly, a layer of color will immediately be created that will give the most natural possible appearance of the presence of natural hair.
Ingredients
Organic Keratin
Keratin is the main natural component. Its use of hair treatments has been extended because its adverse effects are almost null since it is a natural element.
Silica
It is another fundamental component for the growth and development of hair fibre.
Dyes
It may be present in different quantities depending on the colour of the spray obtained.
All the components are of natural origin and are found in the hair. They can be obtained through the consumption of some foods or topically in treatments for nails and hair.
The presence of these in the product guarantees their effectiveness and their nature virtually harmless to humans.
How to Use KeratinMD Hair Building Fibers?
The product is applied in clean and dry hair once it has been moulded, as usual, Hair Building Fibers UK is held at a distance of about five centimeters from the scalp by applying sprays in those places that you consider convenient until the blank space of the scalp is no longer visible.
It is recommended that with your hands, you spread the fibres over the hair. Depending on the length of the hair, you should work in layers to achieve a better coverage effect, always taking care not to exceed the amount. Finally, you can apply the Hair Building Fibers spray so that the effect lasts longer.
Once these simple steps are completed, you can start your day with the confidence of wearing a strong scalp and healthy hair.
Hair Building Fibers Review
The opinions of customers who start using Hair Building Fibers UK have been very positive and encouraging for those who still do not trust the product.
Surely you have already taken many disappointments and do not want to keep trying, but this may be the last time you try because it could be the definitive one, with a positive rating of 85%, users recommend it, and there is no negative rating yet.
Manufacturers warn that results may vary from one person to another.
Where and How to Buy KeratinMD Hair Building Fibers?
The best place to buy Hair Building Fibers UK is to grab it from here where you can order the original product. Click here to grab it now. You will get promotions for the purchase of two or more products at the best prices.
The product comes in a single pack of 28 grams of fibres, available in the black, medium brown, and dark brown colours.
Shipping
For purchase over £35, shipping throughout the United Kingdom is completely free and international shipments are also available.
Payment Methods
Security is the main concern for what they have one of the most effective and secure data protection systems that have already been used by the store for more than ten years, payments can be made through credit cards, bank transfer or cash payment, all payment platforms are welcome and with total care with financial data and information.
Why You Should Buy KeratinMD Hair Building Fibers?
To counteract the effects of hair loss and thinning of the hair fibre science and personal care companies have developed hundreds of products some more effective than others, but the affected person only wants to invest their money in something that works and Given the natural appearance that has been lost.
Nobody wants products that highlight the defects, not to make what they are trying to hide stand out, people who for any reason are experiencing hair loss or weakening of the follicles also experience associated insecurities with this loss.
The insecurity generated by losing the strength and lushness of the hair can greatly affect the self-esteem of people, and the support they can receive from an efficient and natural product can make a big difference.
Leave home every morning with the confidence of looking healthy and vitalised with just a few minutes you take to start the day to apply the Hair Building Fibers, and your self-esteem and confidence will receive a considerable boost that will impact not only on your mood but that everyone around.
You will notice that you are better and that you feel better but will not be able to discover the cause, because nobody will notice what is in your hair.
Conclusion
It is no secret to anyone that has damaged, ugly and irreparable hair is one of the worst nightmares that can exist in the world, at least mine is, that's why if you are determined to put aside the insecurities that generate a scalp and fragile hair is the time to buy and use the Hair Building Fibers every morning, from the first day you will notice the changes in all facets of your life for the better.
And once you have begun to enjoy these changes and improvements, do not forget to express your experience in the Hair Building Fibers Review so that others can feel and experience this positive change in their lives and in the way they will perceive their appearance.
You can feel free If you honestly review the results of the use of fibres in your hair, your opinion will only serve to stimulate well-being and self-confidence in thousands of people who have affected their lives every day by suffering from hair weakness and thinning hair.
You can form part of the proud clients of Hair Building Fibers that also contributes to the solution for others with the same aesthetic and health problems.
Do not let hair thinning change your life, be you who produces that change, have confidence in Hair Building Fibers, use it correctly and it will not take long to see those changes and improvements that you so desire, do not waste more time and do it now.