Most people have encountered hair loss in one form or the other. It is a problem faced by millions of people around the world, both men and women. And if you are suffering from the same, you must read this Trichoceutical review to see how you can get rid of it.
Here is a fact: Only a few people know the reason why they're losing their hair and a lesser number of them ever find a solution to this depressing problem.
So you might not know why you're losing your hair, you might not even care because all you're concerned about is getting rid of the problem. But the thing is, if you don't know the cause of your hair loss you'll be putting yourself at the mercy of overzealous and dishonest cosmetic manufacturers who care more for their pockets than they do for your hairline. And if you're reading this, you've probably bought more than a few products that promised heaven and earth and couldn't deliver.
Yeah, I know because we've all being there.
You see the advert for a new product and you're excited by its wonderful claims that raise your hopes. Only to realize months after, and several more hair strands lost than you've been scammed. Again, we've all being there.
Sigh.
Alright, the pity party is over. We're done feeling sorry for ourselves. I'm going to be talking about some products that can help your hair look it is absolute best while you sort out this hair loss thing. But first, I'll be going through some of the types of hair loss. Just so you can figure out the reason why you're losing your hair.
Ready?
OK people, now let's get information.
Types of Hair Loss
Androgenic Alopecia
This is one of the major causes of hair loss and it occurs in both men and women. In men, the hair loss starts above the temples and then recedes to form an "M'' shape eventually. It could be as a result of an inherited baldness gene, hormones or the effects of aging.
In women, the hair thins out around the crown of the scalp or in other random areas around the scalp and it's usually due to a hormonal imbalance.
Alopecia Areata
This is an autoimmune disease which causes the affected person to lose hair in patches. The exact cause of it is not known but the hair loss can be partial or total.
Traumatic Alopecia
Traumatic alopecia is caused by hairdressing techniques that put too much tension on the hairline by pulling it too tightly. For instance, tight braids or cornrows. It could also be caused by chemical (relaxers, bleaching) or heat (styling tools) damage to the scalp and hair. This is the most annoying form of hair loss because it's almost self-inflicted.
But the great thing is that the circumstances are within your control so an adjustment in your hairstyling patterns will make a difference.
Telogen Effluvium
This is a form of hair loss that occurs due to physiological stress on the body. It could be a prolonged illness or surgery. In women, it often happens due to the hormonal changes that occur after childbirth. So if you had a baby and wondered why your hair was suddenly falling off, now you know why and it'll stop as soon your hormone levels balance out.
Tinea Capitis
This is a fungal infection of the scalp that makes the scalp scaly and flaky. It causes the hair to break off from the roots. It's a form of hair loss that occurs mostly with children although some adults have it.
Now that you know some of the different types of hair loss, you'll also want to know how to treat them. The great thing is no matter the cause of your hair loss, hope is not lost. I have some information that will help.
Treating Your Hair Loss
Finding products that work to curb your hair loss can be daunting and discouraging but it doesn't have to be impossible. Some products actually do what they claim and I have reviewed several of these on my blog.
However, note that treatments for hair loss don't work overnight. So you may need several months of consistent usage to see results. This "waiting" period can be tough for some people.
On one hand you're hopeful and anticipating hair growth but on the other hand, you still have to deal with the difficulty of styling your hair because of the lack of volume.
This is where the Trichoceutical hair products manufactured by Hairgenesis come in. Hairgenesis is a brand that manufactures a range of products specifically to target hair loss.
Trichoceutical Instant Volume Hair Spray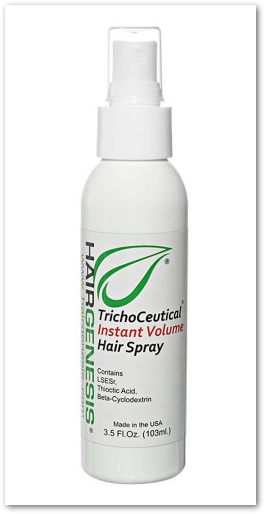 There are lots of volumizing hair sprays in the market and you've probably come across some of them. But what makes the Trichoceutical spray different is that it is made with a proprietary blend of plant extracts, backed up with years of scientific studies synonymous with the brand and its exclusive Trichoceutical technology for better delivery and absorption.
The result is a revolutionary formula that lifts, strengthens and protects thinning hair while also providing incredible volume so you can look your best every time no matter the hairstyle.
How Does Trichoceutical Hair Spray Work
The formula aims to not only lift and provide volume but to strengthen, nourish and revitalise the hair. It includes Serenoa repens and thioctic acid to support the strength of the hair, peppermint oil, and green tea to help with scalp health. It also includes macadamia oil and evening primrose oil which hydrate the hair follicles from within and prevent the loss of moisture and essential nutrients.
Key Ingredients
Here is a list of the key ingredients of the Trichoceutical instant volume hair spray.
Aloe Vera Extract
Aloe vera contains proteolytic enzymes which nourish, heal and repair your scalp. The proteolytic enzymes also stimulate hair follicles and promote growth. Aloe vera also protects against hair loss and helps to minimize shedding.
Its high protein content, along with vitamins and minerals nourish your hair and scalp and its moisture content locks in nutrients and hydrates your hair.
Seaweed Extract
Seaweed extract is rich in collagen and other nutrients that hydrate and repair damaged hair. It is high in vitamins A, C, and zinc that promotes hair growth and it is also responsible for hair thickness.
Wheat Protein Extract
Wheat protein extract is very beneficial in the treatment of damaged hair. It improves the elasticity of the hair by preventing the loss of moisture. It has the ability to deeply penetrate the hair to strengthen it and hydrate it.
Hyaluronic Acid
Hyaluronic acid is an ingredient that is popularly used in skin care for its extraordinary hydrating abilities. However, it is also beneficial to your hair. It helps to protect and nourish your scalp which promotes healthy hair growth. It could also help to seal in moisture into thin and damaged hair making it look healthier.
Pros
Lifts and provides volume for thinning hair
Masks hair loss
Strengthens the hair
Protects the hair
Suitable for both men and women
Can be used as often as you desire
Suitable for any hairstyle
Natural formula
Easy to use a spray bottle
Leaves no residue
Easily washes out
Con
· It is expensive
How to Use Trichoceutical Instant Volume Hair Spray
Hold the bottle 10-12 inches away from your hair and spray over the surface lightly. Ensure you have an even application and then style. The hair spray works on both wet and dry hair so it's pretty convenient. And you can use it as often as you want.
Where to Buy Trichoceutical Hair Spray
You can buy the Trichoceutical instant volume hair spray online and it will be delivered to your doorstep. Click here to place your order with FREE shipping all over the UK.
Trichoceutical Formula Styling Mousse
The Trichoceutical Mousse is also a styling product for thinning hair designed for people experiencing hair loss. It provides even more volume than the spray and is good for special occasions when you want something extra. It gives your hair maximum volume, shine, and control whilst still protecting it from the effects of hair loss.
Not only does it provide volume, it only gives maximum hold while still leaving your hair soft to the touch and flexible. It can also be used to define curls and waves. When your hair is thinning, it can be a challenge finding styling products because their ingredients could be damaging for your hair.
What sets the Trichoceutical mousse apart from others is the fact that it is made from natural ingredients which nourish the hair rather than cause more damage.
Key Ingredients
Here are the key ingredients of Trichoceutical Mousse.
Rosemary Oil
Rosemary oil is an essential oil that promotes blood circulation in the scalp and stimulates growth. It has anti-inflammatory properties and it can help with dry, itchy scalps and prevent dandruff. It is also sometimes used in the treatment of hair loss.
Green Tea
Green tea is packed full with antioxidants like polyphenols which studies have shown reduce hair loss by inhibiting the formation of DHT, the hormone responsible for androgenic alopecia. It strengthens the hair, helps to seal in moisture and revives dry hair to give it a healthy shine.
It is also rich in vitamin C which helps to protect your hair and scalp from the damaging effects of the sun.
Bilberry Extract
If you've never heard of Bilberries allow me to make the introduction. Bilberry is the distant cousin of blueberry and cranberry that you're most likely familiar with. Just like its relatives, it is are high in antioxidants and has astringent qualities that nourish and calm an inflamed scalp. It also stimulates the hair follicles by promoting blood circulation in the scalp.
The Trichoceutical mousse also contains some of the ingredients in the spray like hyaluronic acid, seaweed extract, aloe vera, and wheat protein extract.
Pros
Provides maximum volume, hold, shine and control
Strengthens the hair
Protects the hair from the effects of hair loss
Rejuvenating
Reduces flyaways
Can be used to define curls and waves
Suitable for all hair types
Suitable for men and women
Natural formula
Easy to use a hygienic foam applicator
Con
It is expensive
How to Use Trichoceutical Mousse
Using the pump, dispense some of the mousse into your hand. Massage into wet or dry hair to create volume or you can simply use it as a styling aid. Be careful not to apply too much product. Use a little at a time and then apply more if necessary.
Where to Buy Trichoceutical Mousse
Click here to buy Trichoceutical Mousse and get it delivered free of cost anywhere in the UK.
Side Effects of Trichoceutical Hair Spray and Mousse
There are no side effects of using these products. The Trichoceutical hair spray and mousse are manufactured with natural ingredients that are backed up with years of scientific research. However, before using them, I'll advise that you go through the list of ingredients to ensure they don't contain anything you might be allergic to.
If there any reactions following the use of these products, please wash off and discontinue use. Also, if you're currently on any scalp medications, consult with your doctor before using them. Note that these products are recommended for only those over the age of 18.
Final Thoughts
HairGenesis is a brand that clearly understands the struggle people deal with hair loss go through. Trichoceutical products are designed to ease that struggle and provide effective solutions. This is evident from the positive Trichoceutical reviews you'll find by people who have used their products to regrow their hair.
This gives me more faith in the brand. If they can manufacture products that actually curb hair loss and bring about hair regrowth, then they can definitely make hair styling products that do what they claim.
So, you might be losing your hair but you don't have to lose your confidence with it. Whilst you're trying out options to regrow your hair, you can still look your absolute best. With Trichoceutical, every day can be a good hair day. You might be shedding, but you're still slaying.
Fake it till you make it.